Select an immersive audio experience from our catalog and reunite with friends & family within one of the best 3D sound systems in the world
About this Event
Limited time only. 20% discount for Envelop Members.
Bring your close contacts to Envelop SF for a safe and stunning immersive audio experience. Upon checkout, select your group's music or sound experience from a diverse catalog of community favorites.
Click "Tickets" and select your group size.
Complete the purchase details and select your listening experience upon checkout.
We will welcome you and your group at the event's start time and ensure that everyone has a safe and enjoyable listening experience.
The health and safety of our community is our top priority. Masks are required and social distancing is required for non-household members. This event strictly follows all SF City & County health guidelines. Visit our Health & Safety Plan for more details.
All ages. At least one guardian must accompany minors.
No alcohol or concessions will be served or brought into the venue.
Envelop SF is within The Midway at 900 Marin St, SF, CA. Enter from the Michigan St side of the building, through the patio.
The ticket purchaser must be present. Late arrival over 30mins will forfeit the event.
All sales are final. There are no refunds or ticket exchanges.
If you would like to host your own experience, please submit your private event idea. We would love to work with you.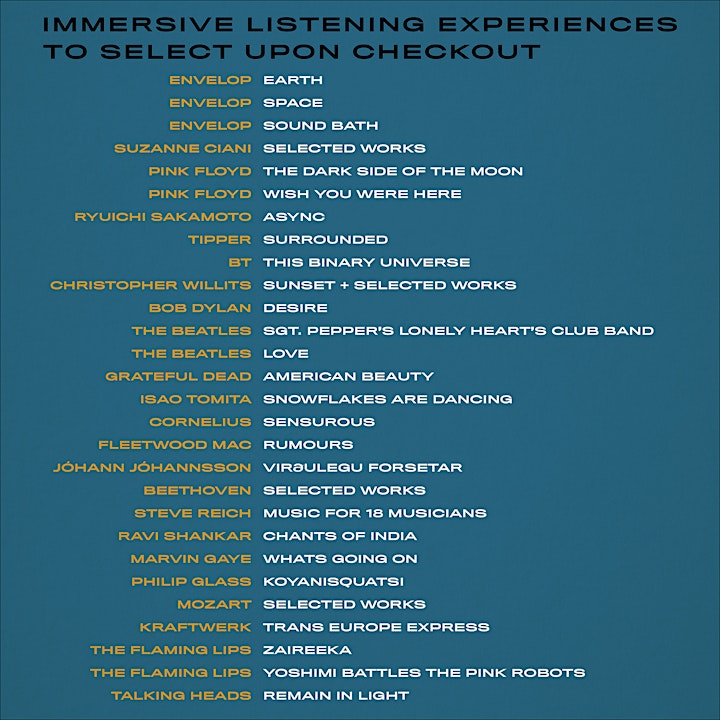 In the last stage of the checkout process, select your listening experience from one of these incredible immersive audio albums and experiences listed above.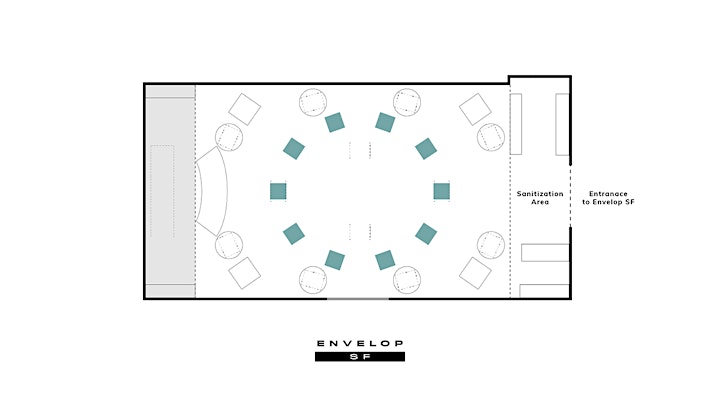 Envelop provides general admission seats in a similar arrangement as shown above.​
Envelop SF is a next-generation immersive audio venue located within The Midway in San Francisco. Envelop SF amplifies music's social and emotional impact through intimate, immersive listening events, live performances, wellness, and education. 32 speakers create a sphere of sound, allowing the audience to be within the music. Any sound can be positioned completely around and above the audience with ease, using Envelop's immersive audio software tools, Envelop for Live. A video projection system and LED lights embedded within the column design can compose synchronized audiovisual compositions. The entire room is an immersive instrument.
Envelop's mission is to unite people through shared listening experiences. Our immersive audio venues and open-source software help to build a sense of connection and community through sound. Become an Envelop Member and learn more at envelop.us