Friendly Pagans Business Resource Website - Friendly Pagans dot com Directory of Service Providers features IL Wedding Officiant Rev Pamela

Weekly Event - Every Monday Wednesday & Friday: 1:00 PM to 4:00 PM (CDT)

Mt Prospect, IL
Who's Going
Loading your connections...
Event Details
Friendly Pagans Press Release:  May 2013
Announcing the Launch of Friendly Pagans Business Resource Website
Rev. Pamela of FriendlyPagans.com It is with pleasure to announce on May 1st 2013 the launch of what is hoped to grow to be the largest and most complete directory of pagan resources in the nation -FriendlyPagans.com and the local page  ChicagoPagans.com are available to you as a place to post your business, services, events or anything to help unite a spiritual community and grow awareness for equality for religion. All Earth Centric businesses are welcomed to list here and the website will grow as new advertisers request new category pages. Link to http://ChicagoPagans.com FREE Of Charge!
Benefits of Marketing
FriendlyPagans.com & ChicagoPagans.com Pagan Business Directory in conjunction with Pine Manor 401 news and events marketing  https://www.facebook.com/pages/PineManor401com-Chicago-Area-Events-and-News/129097737141257 are design to optimize Internet marketing and increase organic search engine results. Our growing web directory welcomes listings for all pagan earth centric subject mater, including many of our competitors. The idea is FriendlyPagans would house all links to all pagan wares.  Listing in our directory can be a crucial edge for your website to gain better organic search engine rankings and increase website traffic.  
 We invite you to exchange link with us as part of your web promotion directory strategy. Also paid members will be featured in the monthly press release campaign which includes high profile news resources, search engine marketing, list marketing, Google ad words ( so if you see an ad don't click it costs me money) and classifieds among other PR tactics. Actively growing the ranking of your website along with  FriendlyPagans.com  This combines with links to your website, email and phone number on your ad will drive business directly to you without having to pay for leads. Ads are at a minimal cost, so everyone can afford to be apart of this huge effort including a FREE link option.
TRY IT NOW: Search Google - "Chicago Pagan Events" you will find friendlypagans on first page results - and I have only just begun! Soon this website will come first on national searches and multiple keywords that support our advertisers. I want it to be a unified collection of the spiritual voice. List on the site and your ad is on the first page too!
DIRECTORIES
If you have a website that is a directory or blog listings of practitioners, events or the like - All directory websites receive a FREE ad with a reciprocal link! Reply to this eMail and will get you fixed up.
EVENTS
FREE event posting on pinemanor401 facebook feeds directly to friendlypagans.com for national exposure. Like us on facebook and Please forward the site's information to everyone you can.  Link to the site and spread the word - we will all benefit. https://www.facebook.com/pages/PineManor401com-Chicago-Area-Events-and-News/129097737141257
Our Featured Business of the Month.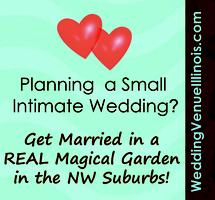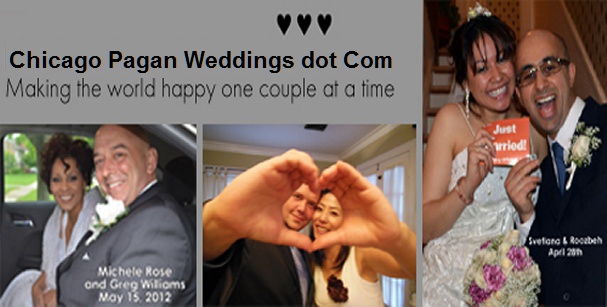 Chicago Pagan Weddings & Ritual Space - 847-873-7463
Hold your next event at Pine Manor. The charming home of Rev. Pamela Located in  the Chicago NW Suburbs. This 1920's Dutch Colonial home and magickal garden offers an intimate home elegance perfect for a small guest list of up to 30. Interfaith Officiant will write and perform your wedding / civil union, handfasting ceremony while working closely with you to craft the perfect ritual that combines both of your traditions, unique personality, beliefs and desires. Cultural rituals, handfastings and family traditions are blended together, with meaningful symbolism. http://HandfastingWedding.com Tie-the-knot in the olde ways and incorporate a handfasting rite into your ceremony, or if a unity candle ceremony. Please contact Rev. The ceremony will be a perfect reflection of you and your fiancé, and an event all of your guests will remember forever. Plan ahead or short notice ceremonies, OK.  Relax and feel at home while saying your vows in front of the fireplace or in the garden. Romantic and private alternative to the courthouse setting. Reverend Pamela - RevPam@ChicagoPaganWeddings.com
http://chicagopaganweddings.com/  847-873-7463 CST 8-8pm
Keywords: Handfasting Wedding, Handfasting Cords, pagan weddings, ritual space chicago, wiccan weddings, wiccan resources, magickal tools, psychics, tarot readings, astrology readings, accountant chicago, hypnosis palatine, accounting palatine, Avon cosmetics, find an avon rep online, Advertising & Marketing, Astrology, Psychics, Clairvoyants & Readers, Covens, Groups & Meetups / Events, Spiritual Provider Directories
Employment Opportunities, Family Fun, GLBT Friendly gay marriage Illinois, Alternative Healers, Teachers & Practitioners, Pagan Owned Businesses, Pagan Radio and Pagan, pagan wicca News Feeds, Weddings, Handfastings, Rituals, Witches, VooDoo & Spell Casters, Pine Manor Chicago, Pagan Wedding rituals, magical spell candles, custom spell casting, hire a witch to cast a spell
Where


Friendly Pagans Resource Website
401 S Pine St


Mt Prospect

,

IL

60056

Organizer
Rainbow Wedding Network's 'Same Love, Same Rights' Gay & Lesbian Wedding Expo
Rainbow Wedding Network's 'Same Love, Same Rights' Gay & Lesbian Wedding Expo is a timely resource for same-sex couples planning their weddings, as well as singles, advocates and allies who support the expansion of civil unions into the full equality of marriage. Go to  www.SameLoveSameRights.com for more information.