Description
Rattlesnake master and insects photo courtesy Mike Schwedler.
Find out if that garden bug is a friend…or foe.
NHG welcomes the Greater Dallas Organic Garden Club and their September monthly meeting featuring special guest Megan Proska.
What's "bugging" you? Megan will cover a wide array of both good and bad insects that you might find in your North Central Texas garden. It's been said "if something isn't eating your plants, then your garden isn't part of the ecosystem". So, come learn in this free class which bad bug might be making a lunch out of your landscape…or…might instead become a tasty snack for one of the good guys.
2:30 PM Welcoming and refreshments
3:00 PM Presentation

Bring a friend. Share this invite. As always, Greater Dallas Organic Garden Club meetings are free and open to all. We look forward to seeing you!
---
Megan Proska is a Senior Horticulture Manager at the Dallas Arboretum, and has always loved being outside. Her passion started from an early age with picking vegetables out of her Mom's garden. She began volunteering with the Botanical Research Institute of Texas in 6th grade and continues to volunteer with them when she can.
A Texas A&M graduate with degrees in both Horticulture and Entomology, Megan expanded her knowledge through being awarded a fellowship with Kew Gardens in the United Kingdom. Upon returning to the States, she worked at a tree nursery before taking a supervisor position at the Dallas Arboretum. From there Megan moved into manager positions for the Children's Garden and then Trials Gardens.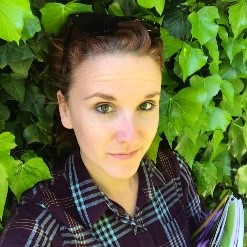 INTERESTED IN GROWING ORGANIC?
The Greater Dallas Organic Garden Club has been promoting organic and sustainable gardening methods since 1993. Come be a part of a fun and informative club! Meetings are monthly in the classroom at North Haven Gardens on the 4th Sunday of the month, Jan - Oct. Most meetings are free, and feature high-quality programming with gardening experts and local speakers.