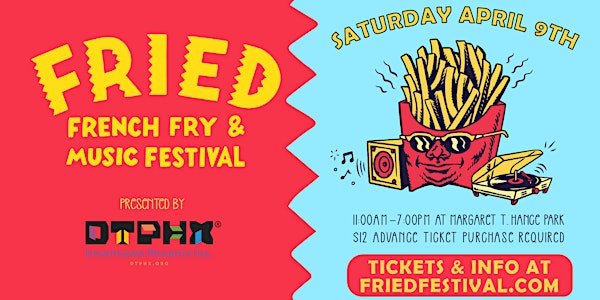 FRIED, French Fry And Music Festival
The FRIED, French Fry & Music Festival, at Hance Park in Downtown Phoenix is FINALLY back! Who's ready to eat boatloads of fries with us?!
When and where
Location
Margaret T. Hance Park 1202 N. 3rd St. Phoenix, AZ 85004
About this event
On Saturday, April 9th, the 2nd Annual FRIED, A French Fry & Music Festival, will take over Margaret T. Hance Park in Phoenix. French fry lovers can purchase and devour some of the most creative French fry creations ever imagined. Every vendor will offer a smaller, more snackable portions as well as entrée-size.
Think about it: French fries available in a million different ways, and then a ton of other food as well. Festival highlights include: craft beer bars featuring Huss Brewing, Bogle Wines, and Mule 2.0, lawn games from AZ Board Source, and a two stages of live bands, DJs, and performers. Also, don't miss the dessert vendors!
Food vendors will accept cash and sometimes credit - so please bring cash! Drinks are cash only. ATMs will be on-site.
Previous ticket holders will be emailed the option to receive new tickets or a refund. If you bought a ticket and don't see that email, please contact dave@phxfest.com. He'll getcha squared away.
FRIED is proud to support Downtown Phoenix Inc., a community organization that promotes the continued revitalization of downtown Phoenix. Through collaboration between businesses, City of Phoenix leadership, and community groups, DPI coordinates activities that help make Phoenix a vibrant urban destination and one of the nation's great cities. They also looooove French fries. Like, a lot.
Tickets are $12 online in advance. Kids 3 and under are free. Dogs under 25lbs, on a leash, are allowed. If the event has not sold out, they will be $17 at the gate until sold out.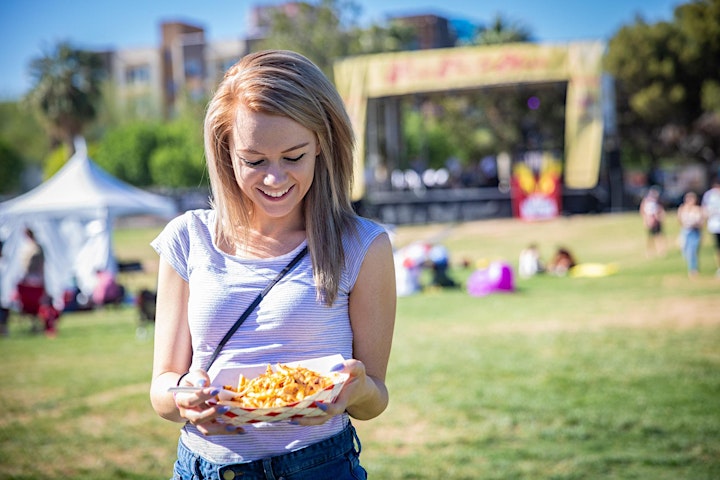 FRENCH FRY VENDORS - MORE TO COME!
Island Boyz Jerk Spot
White Mountain Food Co.
Random AF Taqueria
The American Poutine Co.
Zombie Bones
Sunny's Gyros
Flyin' K BBQ
Pelon's Food Truck
Sandwichcraft
Tzikii Grill
Superfarm Supertruck
Mr. Fries Man
List Subject To Change
2022 MUSIC LINEUP
FRIED STAGE
11:30AM-12:30PM The Limit Club
1:00PM-2:00PM The Deadbeat Cousins
2:30PM-3:30PM Mr Mudd & Mr Gold
4:00PM-5:00PM Las Calakas
5:30PM-6:30PM Vid Nelson
DTPHX STAGE
11:00AM-11:45AM Stellarwell - Recordbar Radio
12:15PM-1:15PM Gnarwhal Jrz
1:45PM-2:45PM TK Nicholson - Recordbar Radio
3:15PM-4:15PM Glixen
4:45PM-5:45PM Sareena Dominguez
6:15PM-7:00PM Aaron Lim - Recordbar Radio