The FRIED, French Fry & Music Festival, at Hance Park in Downtown Phoenix is FINALLY back! Who's ready to eat boatloads of fries with us?!
About this event
Ask the folks who experienced the inaugural French Fry & Music Festival in 2019 and they'll tell you this event was something special. Specially delicious. The 2nd Annual FRIED Festival was scheduled for spring of 2020, but something got in the way. Can't remember what... Then, 2021 was more of the same. But now, it's 2022 and we're ready to party. We've learned it's safe to gather, especially if fries are involved because they help with immunity. To what, we don't know, but they gotta count for somethin'!
Previous ticket holders will be emailed the option to receive new tickets or a refund. If you bought a ticket and don't see that email, please contact dave@phxfest.com. He'll getcha squared away.
But now, April 9th, the 2nd Annual FRIED, A French Fry & Music Festival, will take over Margaret T. Hance Park in Phoenix. French fry lovers can purchase and devour some of the most creative French fry creations ever imagined. Every vendor will offer a smaller, more snackable portions as well as entrée-size.
Think about it: pizza fries, fry tacos, pasta fries, dessert fries, poutine, chili fries, cheese fries, mac & cheese fries ... all the fries will be there! Crinkle, waffle, shoestring, curly ... they'll all be represented! Plus, we'll have a ton of other food like burgers, pizza, tacos, etc.
Other festival highlights include: craft beer, wine, lawn games, a kid's zone with French fry-decorating crafts, and a ton of live bands, DJs, and performers. Also, don't miss dessert vendors offering everything from ice cream and shaved ice to donuts and churros.
Food vendors will accept cash and sometimes credit - so please bring cash! Drinks are cash only. ATMs will be on-site.
FRIED is proud to support Downtown Phoenix Inc., a community organization that promotes the continued revitalization of downtown Phoenix. Through collaboration between businesses, City of Phoenix leadership, and community groups, DPI coordinates activities that help make Phoenix a vibrant urban destination and one of the nation's great cities. They also looooove French fries. Like, a lot.
Tickets are $12 online in advance. Kids 5 and under are free. Dogs under 25lbs, on a leash, are allowed. If the event has not sold out, they will be $17 at the gate until sold out.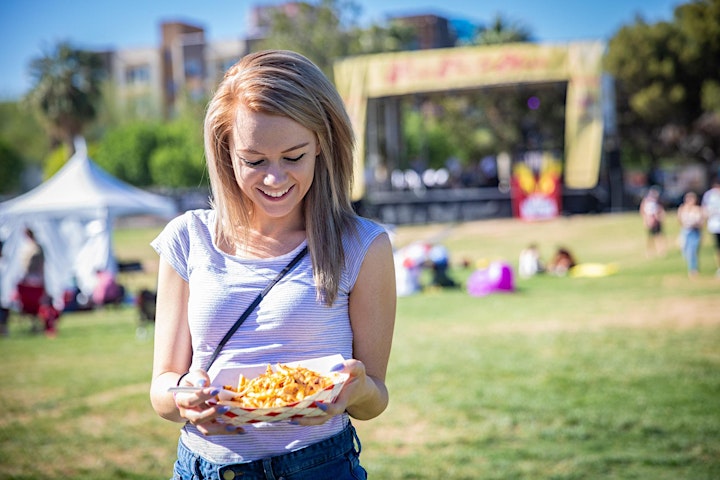 2019 FRENCH FRY VENDORS
Frites St.
Provecho
Quattro Pazzi
Merkin Pizza Wagon
Detroit Coney Cruiser
SoCal Vibrations
Hibachibot
Chula Seafood
Trapp Haus BBQ
Morning Kick
American Poutine Co.
Sr. Ozzy's
Los Compadres
Culinary Skol
Churro Gonutz
Ginger Monkey
French Me
Handlebar Diner
The Closet Vegan
STAY TUNED FOR THE 2022 VENDOR LIST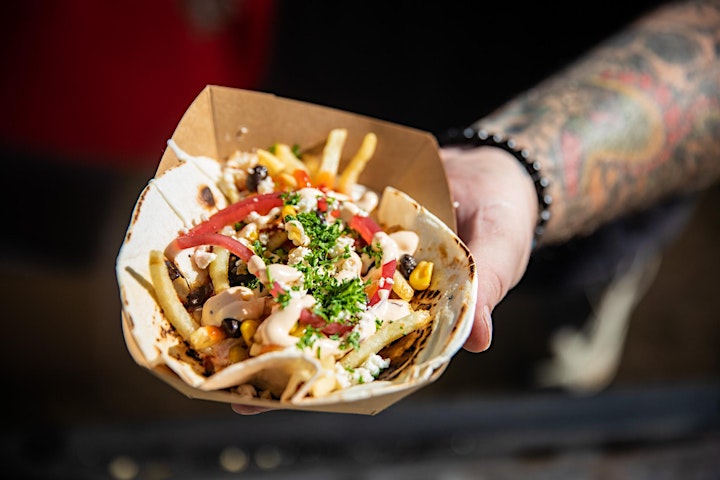 Organizer of FRIED, French Fry And Music Festival
We've been throwing food festivals that celebrate the amazing Phoenix food scene for 10 years. Our events are really affordable, super inclusive, and incredibly delicious. We believe in having integrity as people, producing fun, safe festivals, and promoting local chefs, food trucks, and other businesses. We don't really agree on music, but we strive to find common ground. (Wish there was more of that in the world.) Thank you for attending a PHX Fest event!