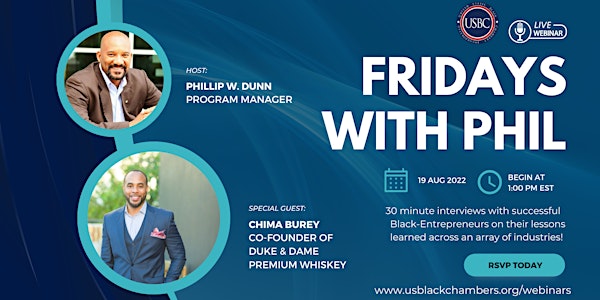 Fridays With Phil - Special Guest Chima Burey
Thank you for registering for "Fridays With Phil"! This week our special guest is Chima Burey, Founder of Duke & Dame Whiskey!
About this event
USBC Programs Manager hosts short 20 minute interviews with local Black-Owned Businesses and Entrepreneurs across the United States! Register to learn more about these United States. Past Guest List includes Marcus Davis, Founder of The Breakfast Klub, Kevin Knight of Urban Events Global, Warren Broadnax of She's Happy Hair. Past Guests include J Raphael Gilmore of J Raphael Photography, Morgan McDonald of RED by Morgan and Lisa Freeman-Williamson of WTF: Weigh The Facts., Nailah Ellis of Ellis Isle, currently the largest Black Owned Beverage Company In The United States!
Kicking off the month of August is Chima Burey, Founder of Duke & Dame Whiskey!
Chima Burey is an influencer who genuinely makes waves and sets new standards within the black spirits industry. He is the co-Founder of Duke and Dame Whisky and B&M Craft Spirits, LLC. The product is ranked as one of the best-flavored whiskeys globally and has won 10 international awards. Before embarking upon an entrepreneurial journey with Duke and Dame, Chima worked as a trade advisor to private equity groups and family offices, offering advice and expertise in financial marketing, trading strategies, and commodities.