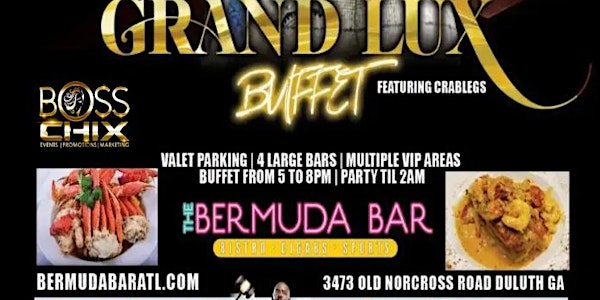 FRIDAYS IT'S THE AFTERWORK ATTITUDE ADJUSTMENT, W/ THE FREE BUFFET FOR ALL
Location
The Bermuda Bar
3473 Old Norcross Road
Duluth, GA 30096
JOIN US FOR THE AFTER-WORK ATTITUDE ADJUSTMENT EACH FRIDAY! THE GRAND LUXE BUFFET FROM5PM-8PM IS FREE FOR EVERYONE + AFTER-PARTY TIL 2AM!
About this event
THE HOTTEST LIVE ENTERTAINMENT MULTI-LEVEL RESTAURANT & LOUNGE IN NORTH METRO ATLANTA!!!
FEATURING MULTIPLE EXCLUSIVE VIP AREAS, A 2ND FLOOR SKYBOX CIGAR LOUNGE THAT OVER LOOKS THE ENTIRE VENUE AND DON'T FORGET ABOUT THE SEXY COVERED ROOFTOP TERRACE!
JOIN US EACH AND EVERY FRIDAY FOR "AFTER-WORK ATTITUDE ADJUSTMENT" ON THE NORTHSIDE!!!!
IT'S ALL HOSTED BY THE VOICE OF ATLANTA, RYAN CAMERON OF MAJIC 107.5!!!!
EACH FRIDAY GRAND LUXE BUFFET FEATURING CRAB LEGS, PRIME RIBS AND MORE IS FREE FOR ABSOLUTELY EVERYONE 5PM-8PM!!!
THAT'S RIGHT! THE BUFFET IS FREE FROM 5PM-8PM FOR EVERYONE!
DOORS OPEN AT 5PM
$5 VALET PARKING FOR ALL UNESCORTED LADIES AND ALL OTHER VALET PARKING IS ONLY $10 PLUS THERE'S FREE PARKING AVAILABLE TOO!
WE PARTY TIL 2AM!!!
THE BERMUDA BAR FEATURES MULTIPLE VIP AREAS, A 2ND FLOOR ENCLOSED SKYBOX CIGAR LOUNGE AND THE SEXY COVERED SEATED ROOFTOP TERRACE!
YOU'LL ENJOY WORLD-FAMOUS DJ'S AND BOTH CELEBRITY & LOCAL ENTERTAINMENT EACH WEEK ALONG WITH 4 LARGE BARS, OUR PATENTED GLOWING DANCE STAGE AND OUR RENOWNED FOOD MENU FROM TABOO 2, ECHELON 3000 & OF COURSE... THE MONTICELLO!!!
MAKE SURE YOU RSVP NOW FOR ALL OF OUR UPCOMING EVENTS & CONCERTS TOO AT BERMUDABARATL.COM AND FOR MORE INFO CALL 470.571.8454 AND TELL THEM JANET JACKSON, THE BOSS CHIX SAID TO CALL AND BOOK YOUR FREE BIRTHDAY PARTY OR SPECIAL CELEBRATION
THE BERMUDA BAR IS LOCATED AT 3473 OLD NORCROSS RD, RIGHT OFF OF PLEASANT HILL RD, IN DULUTH
SEE YOU THIS FRIDAY!!!!
FAQ
Seating is 1st come, 1st serve for walk-ins
Some VIP areas require Bottle Service
All Seats require a 2 Item minimum purchase
We have $5 Valet Parking for ALL Unescorted Ladies and $10 Valet Parking for Everyone else and Free Parking for available too!
After the Buffet ends at 8pm, the Kitchen is open until 1am
We party til 2am
If it's a Concert Night, ticket price may be applicable
For your Free Birthday Parties & Other Celebrations: Call Deseree: 470.571.8454
For VIP Tables on the day of, email: Janet@bermudabaratl.com or call 470-571-8454
3473 OLD NORCROSS RD.
DULUTH, GA 30096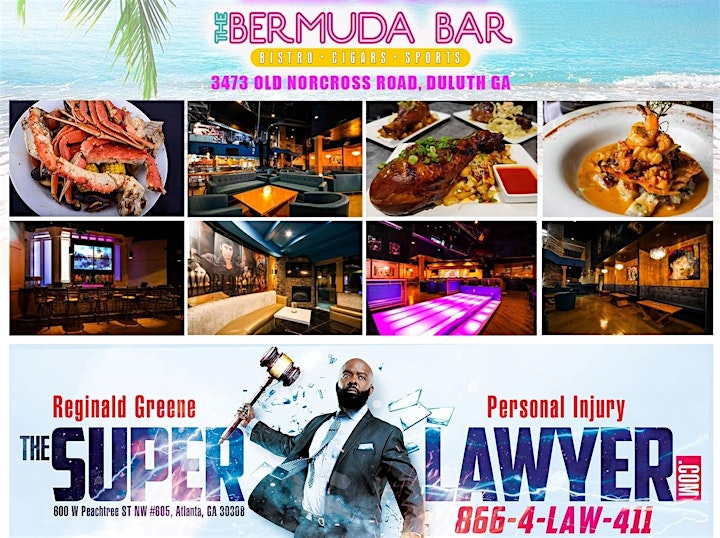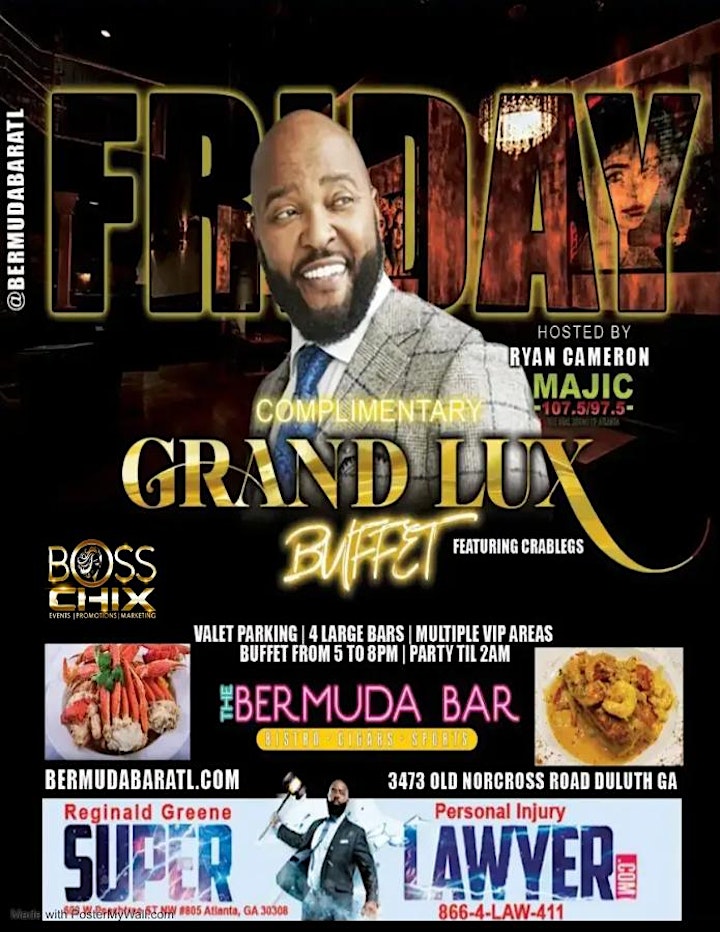 WE OFFER "FREE" BIRTHDAY PARTIES! CALL DESEREE AT 470.871.8454 NOW & LET HER KNOW BOSS CHIX, JANET JACKSON TOLD YOU TO CALL!!