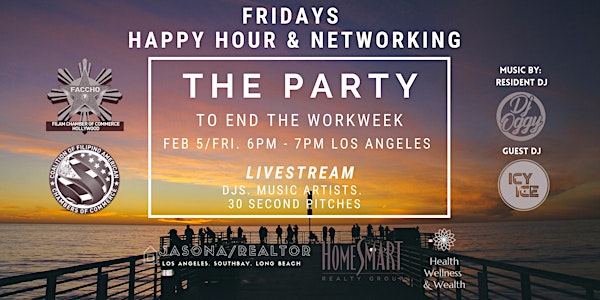 Fridays Happy Hour & Networking
Fridays Happy Hour & Networking by the Filipino American Chamber of Commerce Hollywood
About this event
End your workweek just right. 2021 is your year!
Enjoy the music, network with like-minded, or just chill in your living room, and enjoy the tunes...
The Filipino American Chamber of Commerce Hollywood (FACCHO) presents:
FRIDAYS Happy Hour & Networking
> Music by resident DJ Oggy and guest DJ Icy Ice
Livestream in your living room. Featuring DJs, Music Artists, and 30 - second business pitches.
When: Feb 5/Fri, 6pm - 7pm
***Registration required for Zoom access.***
Are you in, or aspiring to get into the entertainment industry? Music, Film, Author, Podcaster, Youtube vlogger, Multimedia?
Join us! Showcase your talent here-- film shorts, DJ turntablism, music, and video channel.