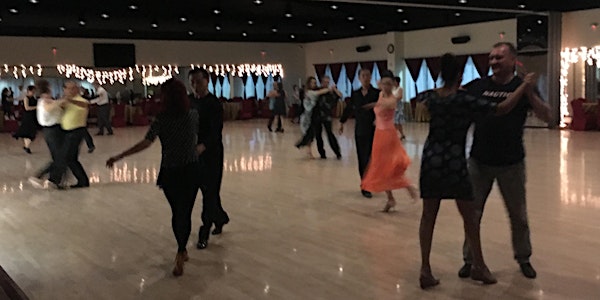 Friday Open Social Ballroom Dance
Every Friday join us for Open Ballroom Dance on super soft, large and cushy floating hardwood. Great music with mix of modern and classic
When and where
Location
DanceSport Club - Houston 11758 Southwest Freeway Houston, TX 77031
About this event
Starting at 8pm we welcome you to join us and our friendly dancers for Open Ballroom Dance on super soft, large and cushy floating hardwood floor. We will have great music with mix of modern and classic Ballroom dance songs. Dance is $10/person. 
Enjoy the best dance floor and music in Houston. We play a mix of classical Ballroom (Waltz, Tango, Foxtrot, V. Waltz and Quickstep) and Latin (ChaCha, Rumba, Samba, Jive, Swing) music and modern European music (DJ ICE, Maksy, Mitya etc) that you are sure do find at dance competitions in the United States and abroad. This is a great practice time for any dancers that want to have good time dancing. For your convenience we have snack and beverage vending machines. 
DanceSport Club is an excellent place for social parties. Our ballroom dance studio offers many benefits for social and practice dancing. First, we have beautiful sprung hardwood floor made of the best quality maple and constructed so that you feel confortable dancing for long hours. Second, our studio has the highest quality sound system, flexible and powerfull enough for any style music during various dance parties throughout each week. With 4500 watts of sound you will hear everyhting. In addition, our dance studio offers the best air conditioning system found in any studios in Houston. Moreover, our studio offers easy access to the freeway (we're right on the feeder of the Southwest Freeway, near Beltway 8) so you don't have to fight heavy street traffic. And, finally, we have enough parking in front, as well as in the rear of the studio, with direct entry from each side of the building. We've taken the stress out of your life wherever we could. When you want clean air, great sound, a beautiful yet comfortable large dance floor, great location, and fabulous sound, the choice is clear. We invite your to visit our dance parties, where we provide ample opportunities to socialize and practice your dance skills learned in dance classes.