PLEASE JOIN US FOR THIS EVENING OF FUN AND LAUGHTER!
About this event
You are purchasing tickets for the FRIDAY, NOV. 26TH - 5 PM SHOW. If you would like another show date/time, please see the links below:
For Thanksgiving weekend...
Will you go bowling? Shopping? Go See a Movie?
Nah! Let's LAUGH it up!
We're turning the The Meadows Country Clubhouse into a fun place to connect and laugh! Plus, we're raising funds for our nations' heroes (veterans) and pets in need!
This is not a comedy-club type of event, but rather a full show.
Knock Out Marketing & PR brings you another extraordinary stand-up clean comedy* event on Friday, November 26th and Saturday, November 27th starring hilarious, nationally-recognized comedians.
We hope you'll join us and sit back and laugh with your friends!
• Choose from four show times total:
5 PM or 8 PM on Friday and 5 PM or 8 PM on Saturday.
• Come early, socialize and check out the fund raising activities (optional).
• After the Show, meet the Comedians!
Tickets won't last long; get yours today!
Start Time
Doors open 45 minutes prior to event start time. We encourage you to come early, visit with your friends and participate in fundraising activities (optional). 

Attire
Formal casual.
Food and Drinks
• NO DRINK MINIMUM. 3 cash bars and beverage servers available throughout the show. Cash & credit cards accepted.
• There will not be food served during the show itself.
Show Flow
• Once the event begins, we ask that you please remain seated through the show.
• Continual show time is approximately 90 minutes. No intermission.
• Bar service provided throughout the show. Please tip your servers.
• Seating: 3-foot round cocktail tables, each table seats 4 guests. Seats will be placed in a crescent pattern for optimal viewing.
Safety
• Room and tables will be sanitized prior to and in between each show.
• Facial masks are not mandatory, however, should you choose, you may wear a mask.
• You are permitted to take photos/videos before and after the show itself. However, no photos, video or audio recordings will be permitted during the show itself. This is for the safety of all.
Photos/Video/Audio Permission and Tickets
• By purchasing a ticket, you are simultaneously providing authorization for photos, video and audio to be recorded of you and your guests at the event. These photos may be used for promotional purposes and at the discretion of Knock Out Marketing, LLC. All show materials, flow and concepts are the sole property of Knock Out Marketing, LLC. Copyright 2021.
• Tickets are are non-refundable. Should something arise that prohibits you from attending, please feel free to give your tickets to a friend under the ticket holder's name.

About The Comedians
Comic Doc (Vien Phommachanh)
Dr. Phommachanh is a real life doctor. So, why in the world is he doing stand up comedy?.. Yes. We know its weird. The answer is something shook loose, probably. Midlife crisis maybe? Who knows. The point is, he's funny.
The boring professional stuff: Dr. "P" is a practicing otolaryngologist in Sarasota, Florida. He chose that field because he wanted the hardest job to pronounce to go with his impossible to pronounce name. It means Ear, Nose, & throat. So he's also very helpful if you have a sinus infection, sore throat, or ear wax. Get a card and see him in the office. If you ask medical questions at his comedy shows, the answer will likely be given for his amusement.
The fun stuff: Vien started his comedy career at McCurdy's Humor Institute. He is a lifelong comedy fan and just wanted to test his chops. He took to it immediately and found a hidden passion and talent for making people laugh. It's also a much cheaper way to blow off steam than golf. He has since performed all over the country.
Credits: You will soon be able to see the ComicDoc on a national Medicare commercial advertisement and Apple TV on "Global Comedy Club," which was recently filmed in Los Angeles. This is a show spotlighting up and coming international comedians. He has also made several appearances on CBS "Let's Make a Deal." Vien has been a part of several comedy festivals including the North Carolina Comedy Festival, the Clean Comedy Challenge in Indianapolis and Nashville, where he was a finalist, and the Main Event of the World Series of Comedy in Las Vegas. His home clubs are in Southwest Florida where he is a regular at Coconuts Comedy Club in St.Petersburg, Snappers Comedy Club in Palm Harbor, and Laugh In Comedy Café in Fort Myers. He has performed all over the country at clubs including LA Comedy Club in Las Vegas, Third Coast Comedy Club in Nashville, Nick's Comedy Stop in Boston, Ice House Los Angeles, Gutty's Minnesota and Indiana, Off the Hook Naples, Villain Theater Miami, Comedy Zone Florida, among others. He has also performed at private and corporate events such as medical society meetings and national conferences. He was the highest rated speaker at FYZICAL Brand Triumph at Planet Hollywood in Las Vegas, a national medical and marketing conference.
Helen Keaney
Helen Keaney began her career in New York City where she honed her comedy skills at The Boston Comedy Club and The Comic Strip. She caught the attention of television executives, landing a job co-hosting "Short Attention Span Theater" on Comedy Central.
On the second day of a vacation to Los Angeles she met Michael Davies ("Who Wants to be a Millionaire"), who cast her and Mark Steines ("Entertainment Tonight") as co-hosts of "The Big Day," based on the British show "The Big Breakfast." The talent executives at Disney promptly gave her lots of money for a sitcom holding deal, which forced her to sit home and do nothing for a year. After being paroled, Helen landed guest spots on NBC's "The John Larroquette Show," HBO's "Not Necessarily the News" with Dennis Miller, and USA's "Lost on Earth."
She did the voice for the spunky female lead on the popular game "Pandemonium," so geeks everywhere are familiar with her work. Her stand-up appearances include A&E's "An Evening at the Improv" (Currently Streaming on Amazon Prime), Lifetime's "Girl's Night Out," VH-1's "Stand-up Spotlight," NBC's "Friday Night," and Comedy Central's "Make Me Laugh."
Television hosting gigs include TBS's "Movies For Guys Who Like Movies," GSN's "Lover's Lounge", Discovery Health's "Sex Drive", Style Network's "You're Invited" and she can currently be in the Feature film Tooth Fairy 2 with Larry and Cable Guy, Nick Mom Night out, and Caroline and Friends on GSN. Helen is currently a Show Host on HSN.
Danny Bevins
Danny Bevins has been described as, "the funniest guy you've never heard of!" And "comedy's version of a knuckle sandwich!" He won the prestigious San Francisco International Comedy Competition and has been featured at the Edinburgh Fringe Festival, the HBO Comedy Arts Festival and performed at the Montreal Just For Laughs Comedy Festival. He was an actor on the sitcom Sullivan And Son on TBS and a producer for the critically acclaimed comedy show American Wiseass on the History Channel and an Executive Producer on Comics On Duty a film about comedians performing for the troops in Iraq and Afghanistan.
You can see him on his new Dry Bar Comedy special later this year or on:
Comedy Central's Premium Blend
Paramount's The World Stands Up
Showtime's Red Light Comedy: Live From Amsterdam
Showtime's Billy Gardell Presents Road Dogs: Chicago
AXS TV's Gotham Comedy Live
Danny Bevins was born in Florida and raised in California by a church secretary and a Green Beret. As Danny puts it "I was taught to turn the other cheek and always throw the first punch."He spent his first four years as an adult in the United States Army Airborne Infantry and planned to make that his career until an injury forced the Army to place him on medical retirement for three years. As Danny was put through a series of medical procedures he found comedy. A short while later he was on the road telling jokes. And eventually his career would allow him to tell jokes all around the world. Two of those places were Iraq (3 tours) and Afghanistan (2 tours) performing for the troops. He also enjoys being a regular at Brad Garrett's Comedy Club at the MGM casino in Las Vegas. But his two favorite roles are husband and father.
Credits include: Gotham Comedy Live, Billy Gardell Present's Road Dogs: Chicago, Red Light Comedy: Live From Amsterdam, TBS Sullivan And Son, American Wiseass - Producer, Comics On Duty: We Love You Mrs. Bevins, Winner of 2000 San Francisco Comedy Competition
We hope you'll join us. Sit back and laugh with your friends... all while raising funds for our Vets and Pets!
* Clean Comedy is a comedy genre that is generally free of: heavy profanity, obscenity, incest, toilet humor, sexual content, and similarly objectionable material.
Knock Out Marketing reserves the right to substitute talent and change the room layout should safety become an issue. All ticket sales are final. Should not be able to attend, please feel free to give your tickets to friends and family who are 21+ of age.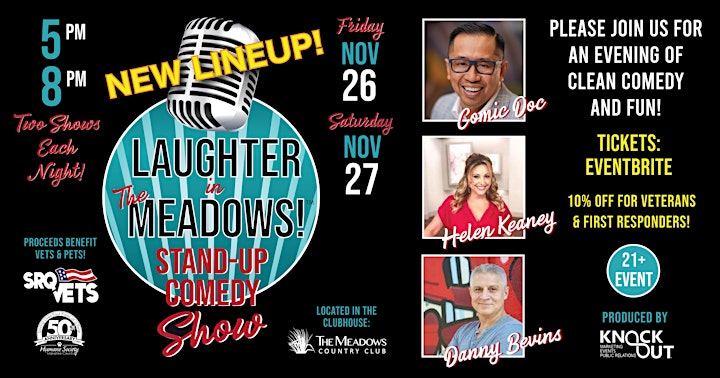 Organizer of FRIDAY, NOV. 26TH - 5 PM SHOW - LAUGHTER IN THE MEADOWS