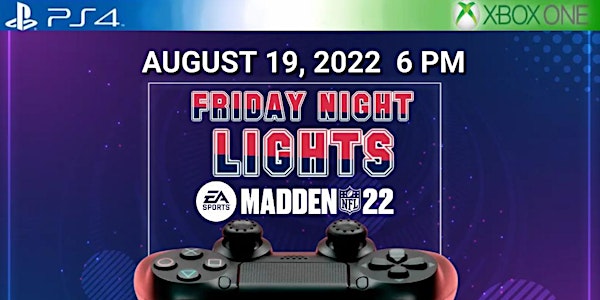 Friday Night Light eSports Event
Columbus Civic Center in partnership with YMCA, Cure Violence, T-Mobile and Pepsi presents Friday Night Lights eSports Tournament
When and where
Location
Columbus Civic Center 400 4th Street Columbus, GA 31901
About this event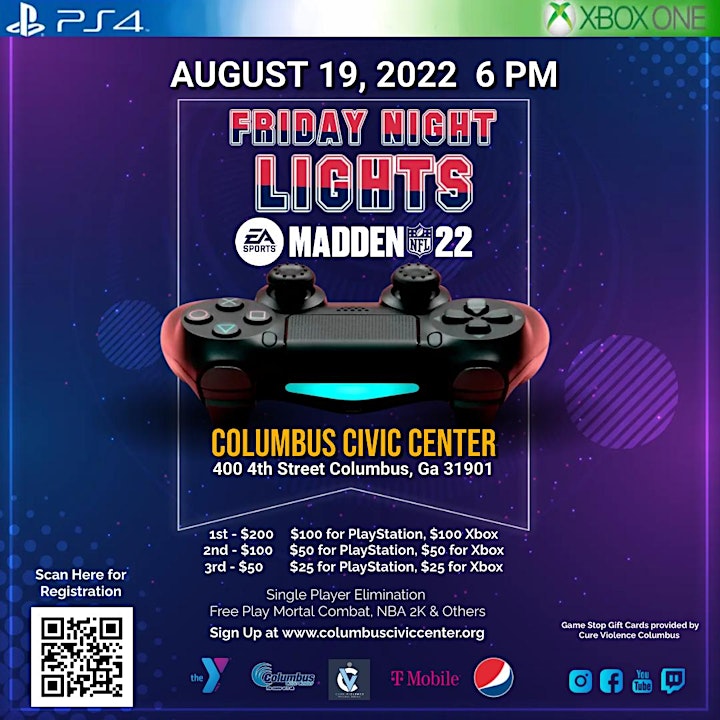 August 19th 6 PM
Columbus Civic Center
Single Player Elimination
Free Play Mortal Combat, NBA 2K & Others
Overview and FAQs
Columbus Civic Center Esports & Gaming Community Initiative Overview
The Columbus Civic Center is a beacon for the community, serving as a full-service venue for Columbus and the surrounding areas by providing a World Class atmosphere, creating, and producing new events while being a pillar for local gatherings.
Esports is an emerging industry in which we realize the great economic and crime prevention potential for Columbus and the already developed Esports & Gaming community. The Columbus Civic Center will host events like Friday Night Lights with the objective to build an esports ecosystem for careers in esports as an athlete and business.
Esports & Gaming is the future for Columbus! We appreciate the support from local partners such as Columbus Consolidated Government, Columbus GA City Council, YMCA of Metropolitan Columbus, Cure Violence, Pepsi, T-Mobile, and many others.
FAQs
How Do I Purchase Tickets or Register to Compete?
This is a free event, however, to compete at the event each guest must register as a Player by using Eventbrite and there is no entry fee. Please note that there is limited space in the tournament.
What Video Games will be Available and Can I Play If Not competing?
The competition will feature Madden NFL 2023 on both PlayStation and Xbox consoles. However, if not competing there will be areas for free play made available via other gaming consoles inside of the event area.
Will there be Food and Drinks Available?
Yes, there will be a Food Vendor on site for food which can be brought inside the building, but not in the Competition Zone. Also, the Civic Center Amphitheater will be available for outdoor eating space.
Tournament Rules & Info
PLAYER CONDUCT
To ensure we are providing the best experience possible, all players are expected to display Good Gamer Behavior as listed below.
Respect your opponents, team, and tournament staff.
Play with integrity in all matches.
Don't be toxic. This means NO:
• Cursing
• Sexism
• Racism
• Homophobic remarks
• Taunting
• Bullying
• Lewd/NSFW remarks or posts
Tournament Staff reserves the right to disqualify any player/team that violates player conduct rules
without warning. If a player/team is disqualified, the match is a forfeit and a loss is recorded for
disqualified player/team.
Tournament Format
1v1 Single Elimination Bracket
Best of 1 Game
Game Settings
Quarter Length: 6 minutes
Play Clock: 40 seconds
Skill Level: All-Madden & Rookie
Weather: Clear
Injuries: 0
Fatigue: 50
Accelerated Clock: Off
Game Speed: Normal
Game Style: Competitive
Stadium: Home Team Stadium
ADDITIONAL RULES
PLAYERS IN THE ROOKIE TOURNAMENT MUST BE BETWEEN AGES 7 AND 11.
PLAYERS IN THE ALL MADDEN TOURNAMENT MUST BE BETWEEN AGES 12 AND 17.
WHAT HAPPENS IF A TEAM OR PLAYER DOESN'T SHOW UP ON TIME
There is a 15 minute grace period. If an entire team or player doesn't show up on time then either the other team/player is awarded the win and the entire match is forfeited or a new player will be awarded the opportunity to play in the tournament.
No pausing, rewinding, or delaying the game. If you perform these actions during the game, you must use a timeout as a penalty, if you have no timeouts remaining, you by required to take a penalty (delay of game for offense, offside for defense) by deliberately performing the penalty. Failure to do so will result in automatic forfeit.