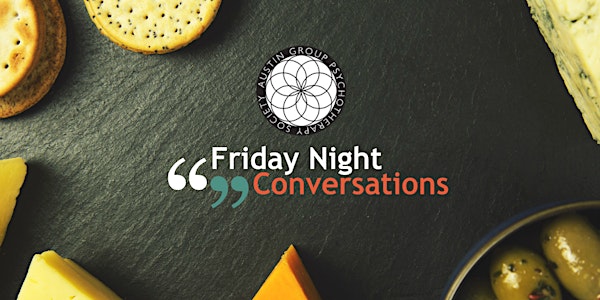 Friday Night Conversation: What Does It Mean To Be a Certified Group Psychotherapist (CGP) and How Do I Get There?
When and where
Location
Virtually through Zoom (Details provided upon registration) Austin, TX
Description
Hosted by:
Deborah Sharp, LCSW
About Presenter:
Deborah Sharp, LCSW-S, CGP, has been running groups of various kinds for 20 years. She currently runs 4 modern analytic process groups in her private practice: one for individuals with chronic or catastrophic illness, one for female-identified individuals over age 50, and two co-facilitated with Ryan Spencer, LMFT, CGP, that are open to all ages and genders. Devoted to life-long learning and growth, Deborah attends the Center for Group Studies in New York and Mallorca. She also serves at the University of Texas as Director of the Conflict Management and Dispute Resolution Office and is a Past President of AGPS.
Description:

At this Friday Night Conversation we will discuss how to become a Certified Group Psychotherapist (CGP) and the pros and cons of pursuing the credential. Attendees will have the opportunity for process-group-style discussion of hopes, dreams, fears and concerns as well as for learning about the credentialing process. This event is appropriate for those at all stages of practice who are curious about what it looks like to become a CGP.
Charge: There is no charge for this event.
Note: Space is limited to 10
(*Please note that if you cannot attend for any reason to notify us so that we can make space available to those on the waitlist.)