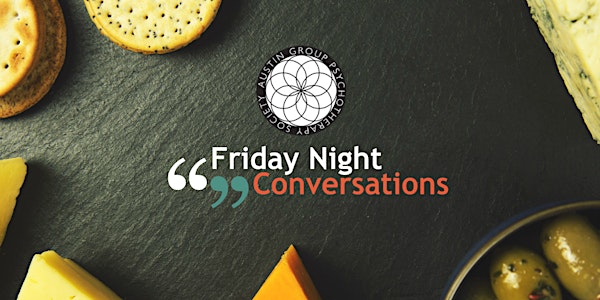 Friday Night Conversation: Rituals through Loss and Death
Friday Night Conversation: Rituals through Loss and Death
When and where
Location
Virtually through Zoom (Details provided upon registration) Austin, TX
About this event
Hosted by: 
Pam Greenstone, MA, LPC
About Presenter:
Pam is a Past President of AGPS, currently serves as an AGPS Board member, and has been running therapy groups for 18 years. She currently runs two process groups in her private practice, time-limited groups for adult adoptees, and a monthly support group for adult adoptees.
Description: 
A ritual is a religious or solemn ceremony that has a set of actions performed in a certain order. Rituals are sincere and can bring dignity to any given moment. This Friday Night Conversation will focus on the process and value of rituals during our most personal losses and the losses we suffer together as a community. Are there rituals that have been useful in your life or have you considered adding rituals in some way? Where do you see a lack of ritual? When do rituals feel empty and meaningless? We will consider all of these questions together as we explore the topic.
Charge:  There is no charge for this event.
Note:  Space is limited to 20(*Please note that if you cannot attend for any reason to notify us so that we can make space available to those on the waitlist.)