Friday Night Chat with Bishop Dukes: 11 Ways to Achieve Your Goals in 2011

Friday, January 28, 2011 from 9:00 PM to 10:00 PM (EST)
Event Details
Get some directions to Your Life as Clear as a GPS
For those who've resolved to better their lives this year, whether personally, professionally or spiritually - Bishop Lyle Dukes, has 11 tips that he wants to share with you.

With an anointed blend of practical wisdom and revelation from The Word, Bishop Dukes will chat with you about how to overcome obstacles, bad habits, roadblocks to achieve health, wealth, happiness and inner peace - even during the worst of times. 
This inspiring and enlightening chat with Bishop Dukes will help you probe to get answers to these questions:
Do you know what your true gift is?
What has God called you to do?
Why is frustration the first step in finding your calling?
How do you find purpose, significance and joy?
Does God belong in the workplace?
How do you stay on track and keep focus in the information age?
Join us!
Even if you can't be on the call LIVE, register and you'll get the mp3 replay FREE.
And those on the LIVE call will get a FREE ebook by Bishop Dukes as well as the replay!
About Bishop and Deborah Dukes

Bishop Lyle Dukes and Pastor Deborah Dukes are the Founders of Harvest Life Changers Church, an innovative and progressive ministry of over 5,000 members, located in Woodbridge, Virginia.  They have served in this position since the inception of the church in 1995. 
Bishop Dukes and Pastor Deborah were both saved at an early age and received their foundational training at the Love of Christ Church, under the leadership of Bishop Carver E. Poindexter and Co-Pastor Lorene Poindexter, the parents of Pastor Deborah.  With over 25 years of sacrificial and dedicated service to the Lord, Bishop Dukes and Pastor Deborah have learned and teach the importance of faithfulness to the vision of pastoral leadership.
Bishop Lyle Dukes is a visionary with a tenacious drive to push "God's Agenda."  He is anointed to teach and preach the Word of God with simplicity and his speaking engagements take him across the country and abroad.  Bishop Dukes has been invited to the White House on several occasions to meet with President George Bush and Secretary of State Condoleezza Rice to provide insight on issues affecting our communities today.  Bishop Dukes holds a bachelor's degree from the University of Virginia as well as a Masters of Divinity Degree from Faith Bible College and Seminary.  He has also served as a Commissioned Officer in the United States Army.
"Impacting and life changing" describe the ministries of both Bishop Dukes and Pastor Deborah and Harvest Life Changers Church, which include an international television program, world missions outreach, national conferences and events, community self-improvement courses (GED program, computer and financial courses, etc.) and numerous community service projects (prison and social services outreach).  Their ministry also includes Christian bookstores, a record label (The Sound of Harvest) and a publishing company (Harvest Word Publishing).  Bishop Dukes and Pastor Deborah are the executive producers of two Top 20 CDs — Through the Eyes of God by Pastor Dukes and In His Presence by the Harvest Life Changers Church Mass Choir. 
Bishop Dukes and Pastor Deborah's ministry spans globally into Africa where they have hundreds of covenant churches under their leadership.  They have also been selected as national spokespersons and ambassadors for the American Heart Association/American Stroke Association Power To End Stroke campaign.  Bishop Dukes and Pastor Deborah have been featured as one of the Gospel Industry's Hottest Couples in Gospel Today Magazine where they serve as members of the Pastor's Advisory Board.   
Bishop Dukes is the author of several books and articles including: The Open Door Policy, Possessing the Kingdom Anointing, The Ministry In You, Let Us Pray, Give It To Me Straight and Three Steps In Defeating Temptation.  Pastor Deborah is the author of the highly sought-after book, The Accelerated Weight Loss Diet Plan & Journal, and the creator and producer of the Power Workout DVD and Power Walk CD.  Bishop-Elect Dukes and Pastor Deborah have also co-authored books entitled In The Inner Courts With God For Men, In The Inner Courts With God For Women and The What Works The Best Principle.
Bishop Dukes and Pastor Deborah are both highly esteemed business owners.  Bishop Dukes is the owner of Mainstream Concepts, Inc., a media marketing company.  Pastor Deborah is the owner of Classive Realty, a full-service company specializing in all aspects of real estate brokerage for residential, investment and commercial properties.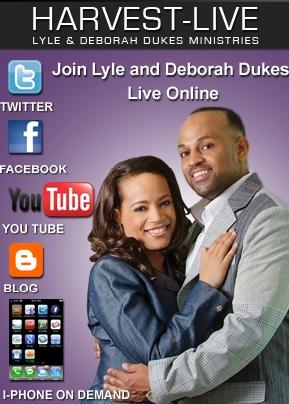 See them on Youtube:
http://www.youtube.com/LyleandDeborahDukes
(when you go to the Blog - get free ebook for signing up there too!)
"See" you on the call!

Have questions about Friday Night Chat with Bishop Dukes: 11 Ways to Achieve Your Goals in 2011?
Contact Pam Perry PR
When & Where
Teleseminar
Dial-in Number: Call in number: 218.936-4700 (code: 528821#)
Detroit, MI 48226


Friday, January 28, 2011 from 9:00 PM to 10:00 PM (EST)
Add to my calendar
Organizer
Ministry Marketing Solutions Inc., founded in 2000, is an online branding and social media agency that provides services for best-selling authors, nonprofit organizations and entrepreneurs. For more information, www.ministrymarketingsolutions.com.
- About Pam Perry -
Pam Perry, who won a national contest as the Savviest in the Social Media in 2010, was featured in an article on social media in BlackEnterprise.com and is one Detroit's top 100 Tweeters. She is a "social media evangelist" determined to convert others into "believers" in blogging, podcasting, tweeting and online branding. Her hub online is: www.PamPerryPR.com. Find out more at Pam Perry Social Media Marketing Maven Sites