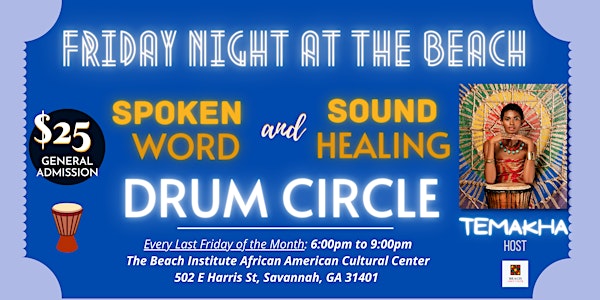 Friday Night at the Beach : Spoken Word Drum Circle
Join us and enjoy a drum circle featuring spoken word at The Beach Institute hosted by Temakha.
When and where
Location
The Beach Institute African-American Cultural Center 502 East Harris Street Savannah, GA 31401
About this event
Join the circle as Savannah based artist and musician, Temakha, curates an inspiring experience for your mind, body and soul.
Friday Night at the Beach is a safe and family friendly space for space for all ages.
The evening will include spoken word and a drum circle experience within the historical space of the Beach Institute African American Cultural Center.
What is a Drum Circle?
- A drum circle is any group of people playing hand-drums and percussion instruments together in a circle.
- Together the group creates in the moment music with the help of a facilitator
What is the Purpose of a Drum Circle?
- The drum circle offers equality because there is no head or tail. Everyone contributes and it includes people of all ages. The main objective for a participant is to share rhythm and get in tune with one's self and the others in the group.
What are the benefits of Drum Circles facilitated by Temakha?
Drum Circles with Temakha help participants to feel seen, felt, and heard while we let loose, trust our inner drum, and play together. Temakha infuses her drum circles with healing modalities past down from her ancestors including but not limited to breath work, creative visualization, and of course sound healing. Many participants have expressed feeling a deep sense of belonging and inner peace as well as relief from physical pain after just a few minutes in the groove.
More Good News about this Drum Circle Experience
* All children are welcome with a ticketed Adult
* All Attendees are welcome to bring musical instruments and poetry to share ( this is a family friendly space so no curse words or explicit content)
* If you do not have an instrument one will be provided for you to play
* Refreshments will be served
* Tickets are required for entry
Additional Resources
Learn more about Temakha
Learn more about the Beach Institute
See you in the circle :)