Join FMMC for a special performance with the Cavani Quartet, in memory of Irene Wise
About this event
Please join the nationally renowned Cavani String Quartet for a concert of Beethoven and Mendelssohn as they celebrate the life of Irene Wise, long time member of FMMC and devoted chamber musician.
The concert is on Saturday, February 22, 2020, at 3:00 PM at the Corcoran Gallery (Hammer Hall) George Washington University.
As always, this performance is free and open to the public. Submit your information here to reserve your seat.
The Cavani String Quartet is known for their artistic excellence, their generous spirit, and their fervent ambassadorship for great music. For this concert, they will be joined by special guest artist and prizewinner from 2018 Johansen Competition, violist, Samuel Rosenthal. Sam also happens to be Irene's great nephew! Reception to follow.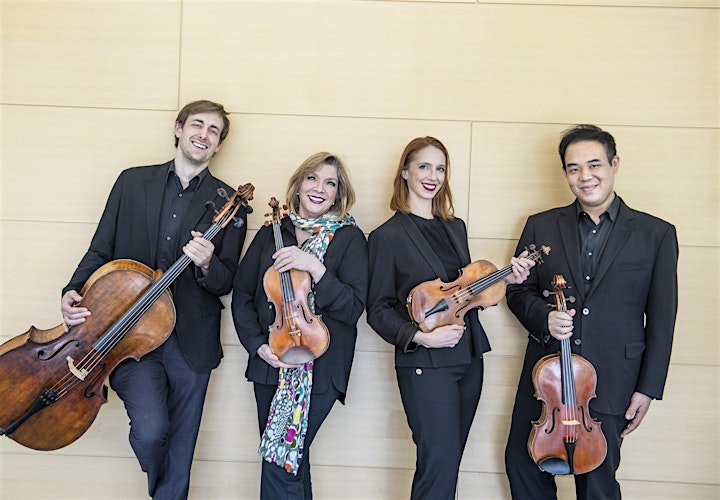 Cavani String Quartet: Left to right: Kyle Price, cello; Annie Fullard, violin I (founding member); Catherine Cosbey, violin II; Eric Wong, viola.

This concert is presented in memory of Irene Wise, a devoted member and musician. We were so saddened to learn that Irene passed away on May 5, 2019 in McLean, VA, four months prior to her 100th birthday. Irene grew up in Mt. Vernon, NY, but made Washington D.C. her home for over 67 years.
Irene became a welcome and respected presence in the amateur classical music community here in DC after she and her family relocated in 1947. She was a performing violinist for more than 80 years. Irene played her violin several days a week in various string quartets, orchestras, and chamber music groups in venues ranging from private homes to concert halls and embassies. She was a valued member of the Friday Morning Music Club for over 50 years.
Irene was a gracious hostess and was known for her warm smile, charming manner, infectious laugh, keen intellect, and her sage advice. She was truly loved by all who knew her. Irene clearly exemplified everything that has enabled FMMC to thrive for over 133 years, exhibiting a lifelong devotion to music with grace and enthusiasm.
To read Irene's full obituary, please click here.