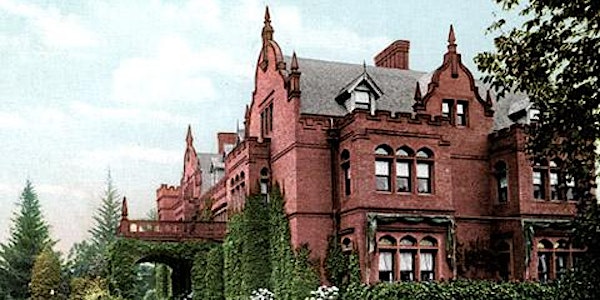 Friday Morning Diversion: "Walking Amongst the Shadows" with David Raby
Join paranormal investigator and author David Raby when he presents "Walking Amongst the Shadows" at Ventfort Hall.
Refund Policy
Contact the organizer to request a refund.
Eventbrite's fee is nonrefundable.
About this event
Ventfort Hall and Gilded Age Museum has been host to Raby's group paranormal investigation events since 2017. One hundred percent of ticket sales for those events go towards Ventfort Hall's restoration and preservation efforts. In this special talk, Raby will tell some of his favorite experiences from investigating Ventfort Hall and other historic locations. The talk will also feature just some of the many audio clips he has captured throughout the years. The talk will encompass locations such as haunted mansions, Revolutionary War and Civil War battlefields, prisons, asylums, hotels and he will include the most powerful stories of people and families he has helped over the past two decades.
Raby is the author of four books - The Shadows Within: Houghton Mansion, Walking Amongst the Shadows: Houghton Mansion; The Inhumanity of Man: The Hattie McCloud Murder; and Bludgeoned: The Reed Double-Homicide.
Begin your Halloween weekend by stepping foot in a haunted mansion and museum - or by sitting comfortably in your home - and listening to spine-tingling tales and evidence.
Ventfort Hall has a strict no-refund policy and tickets are nontransferable. Please ensure you have a strong internet connection and access to Zoom before purchasing tickets.
Tickets purchased on Eventbrite are for the streamed lecture online. To see the talk in person please call Ventfort Hall at 413-637-3206.
Listed on the National Register of Historic Places and designated by the Massachusetts Cultural Council as an important partner of the Lenox Cultural District, one of the five such Berkshire County districts, Ventfort Hall Mansion and Gilded Age Museum was built in 1893 for George and Sarah Morgan, the sister of legendary financier J. Pierpont Morgan. Tours of the historic mansion are offered daily, as well as Tea & Talks, such exhibitions as the Bellefontaine Collection, concerts, theater and other programs. This elegant Jacobean-Revival Berkshire "cottage" is open to the public year-round and is available for private rental. Ventfort Hall, also an Official Project of Save America's Treasures program sponsored by The White House, has undergone substantial restoration, which continues.