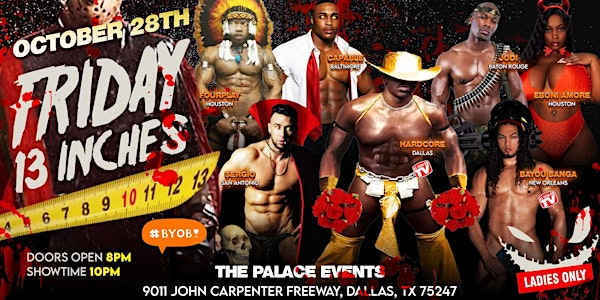 FRIDAY 13 INCHES - COSTUME CONTEST
The ultimate ladies night out featuring special guest male dancers from all over the world at the palace events byob plus free photoshoots!
When and where
Location
The Palace Events Ballroom 9011 John Carpenter Freeway, Ste 106, Dallas, Texas, 75247 Dallas, TX 75216
About this event
"FRIDAY 13 INCHES - HALLOWEEN MALE REVUE"
COSTUME CONTEST
CA$H PRIZE$ - TO THE LADIES WITH THE BEST COSTUMES
1ST PLACE - $300, 2ND PLACE - $200, 3RD PLACE - $100
THE OFFICIAL LADIES NIGHT OUT!!!
FEATURING: FOURPLAY (HOUSTON), CAPABLE (BALTIMORE), JODI (BATON ROUGE), BAYOU BANGA (NEW ORLEANS), SERGIO (SAN ANTONIO), EBONI AMORE (HOUSTON), HARDCORE (DALLAS) PLUS 20 DANCERS BYOB AND FREE PHOTOSHOOTS DRESS TO IMPRESS!
TEXT "OCT28FLYER" TO 817-715-1315 FOR MORE DETAILS.
DOORS OPEN AT 9:00PM/ SHOW STARTS AT 10:30PM
THIS EVENT IS BYOB!
ALL SALES FINAL! NO REFUNDS!
POLICE AND PARKING SECURITY ON SITE!
PLEASE REMIND POLICE OFFICER EXACTLY WHERE U HAVE PARKED SO THEY CAN MAKE SPECIAL ROUTES TO WATCH YOUR VEHICLE!
$1 PER PERSON PARKING SECURITY TO THE FRONT DOOR!
RULES:
VALID ID AND TICKET RECEIPT(S) ARE REQUIRED FOR ENTRY! NO EXCEPTIONS!
NO RECORDING DURING THE PERFORMANCES!
BRING YOUR OWN BOTTLE, ICE & CUPS PROVIDED BY HARDCORE ENTERTAINMENT, FOOD AND CAKE IS OKAY!!!
PLEASE BRING PLENTY OF SINGLES TO TIP THE DANCERS. DANCERS ARE PERFORMING FOR TIPS AND TIPS ALONE!
THIS EVENT IS FOR A FEMALE AUDIENCE ONLY! THERE ARE ABSOLUTELY NO EXCEPTIONS TO THIS RULE, DON'T ASK!
JOIN OUR FACEBOOK EVENT HERE: https://www.dallasmalerevuefbevents.com/
JOIN OUR FACEBOOK GROUP HERE: https://www.facebook.com/groups/TMSTEAMMONEY
FUTURE EVENTS OR PRIVATE PARTIES TEXT "MORE INFO" TO 817-715-1315!
CEO: https://www.contacthardcore.com/
FREE MOVIE PREVEIW: https://www.dallasmalestripper.com/