Friction Farm AND Fred Gillen, Jr

Saturday, April 9, 2016 from 6:00 PM to 10:00 PM
Event Details
WOW. TONIGHT is an award winning, double header! (Triple, cuz there's 3 people :)
Tonight you'll hear artists that have created over a dozen albums, and performed original songs from Kerrville and Falcoln Ridge Festivals to "All My Children" and "Car Talk" TV and radio shows. Not only are these folks real good, but they're real people, ready and willing to share their songs and stories of real life with us, right here, right now. 
Like I said: WOW!
LISTEN to their music on line: FRICTION FARM  and FRED GILLEN JR Then COME here and meet them LIVE!
Peace through Music,
Mary, Jeff and Dug the dog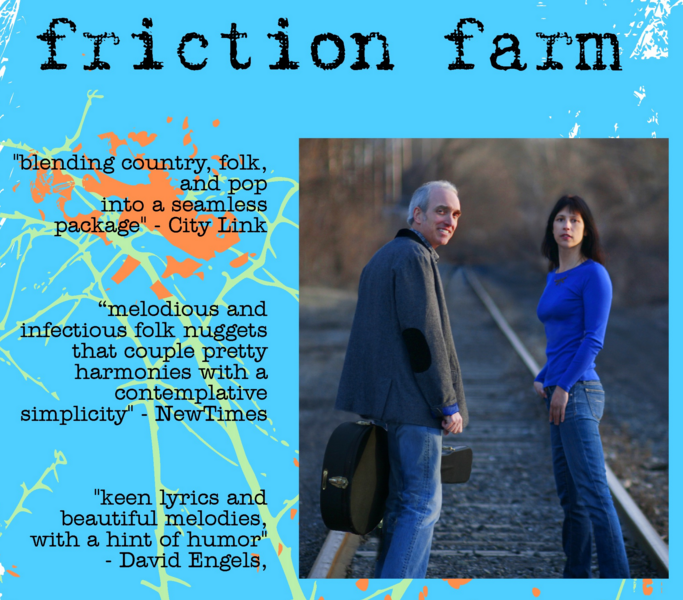 Modern folk duo Friction Farm is guitarist/vocalist Aidan Quinn and bassist/vocalist Christine Stay. Blending country, folk and pop into a seamless package, they bring a rare freshness and spontaneity to the stage. Their new CD "I Read Your Book" features songs each inspired by a different book. Friction Farm's previous recording earned them a spot as Kerrville New Folk Finalists and Falcon Ridge Emerging Artists in 2011.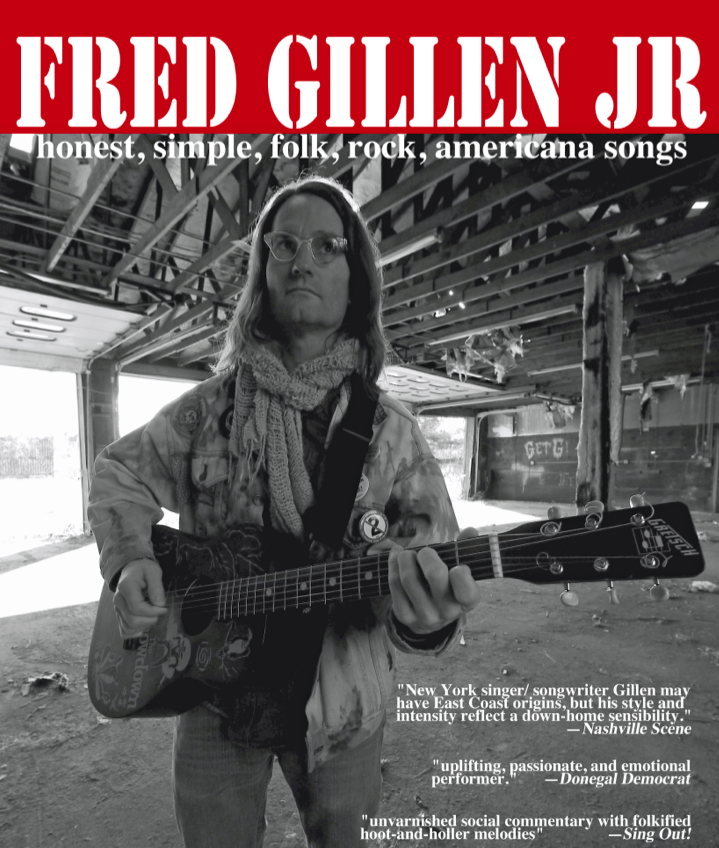 Fred Gillen Jr has released nine full-length albums, to great critical acclaim, and received a grant from the New York Foundation For The Arts. Fred has toured all over the U.S. and Europe and his songs have been featured on ABC's "All My Children," NPR's "Car Talk," CMJ's New Music Marathon Sampler.  In 2012 his version of Woody Guthrie's "I Ain't Got No Home" was featured on "Pete Remembers Woody," a collection of Pete Seeger's spoken stories about Woody Guthrie. Like Guthrie, Gillen's songs often reflect the struggles of the marginalized and forgotten, shining a light on both the despair and hope in the human condition.
When & Where

4279 Janes Ln
4279 Janes Lane
Marshall, VA 20115


Saturday, April 9, 2016 from 6:00 PM to 10:00 PM
Add to my calendar
Organizer
Stillwaters Supper and Songs
Supper and Songs is a house concert series hosted by Stillwaters Foundation volunteers Mary Shapiro, Jeff Wolf and friends to "build community and create Peace through Music". We have events at least once a month which include a potluck SUPPER (at 6 pm) and SONGS by professional touring musicians (concert time depends on the day). We end with dessert and a fun, informal open mic (where anyone who wishes shares poetry, stories and songs). "Tickets" are donations to the performers and are available on line or at the door. All ages are always welcome, and polite pets on leash when we're outdoors (April to Oct). We provides chairs and potluck supplies and Stillwaters' big beautiful event tents provide shelter (so the show goes on, rain or shine).  Questions? Call Mary at 540-364-1739. We look forward to meeting you!

2017 Stillwaters SUPPER AND SONGS Calendar
SUNDAY, JANUARY 22, 4:00 PM Dana and Susan Robinson
SUNDAY, FEBRUARY 26, 4:00 PM Claudia Nygaard
FRIDAY, MARCH 31, 7:30 PM Dennis Warner
SUNDAY, MAY 21, 4:00 PM Melissa Chavez and David Chavez
SATURDAY, JUNE 10,  7:30 PM Shawna Caspi
SUNDAY, JUNE 18 Summer Solstice Festival featuring Woven Green
JULY Please go to a Bluemont Concert
SATURDAY, AUGUST 26, 7:30 PM Orpheus Jazz

SEPTEMBER TBA***
OCTOBER Please go to"Behind the Label"or"A Will to Survive" by A Place to Be
SATURDAY, NOVEMBER 18, 6:00 PM "A Heart for Art" Annual pARTy
SATURDAY, DECEMBER 9 7:30 PM Lea
Friction Farm AND Fred Gillen, Jr