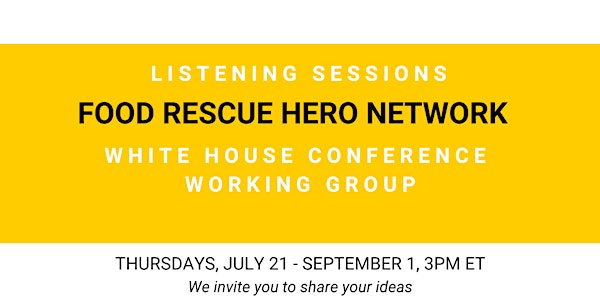 FRH Network's White House Conference Working Group - Listening Session
Food Rescue Hero Network White House Conference Working Group - Listening Sessions, Thursdays, July 21 - September 1, at 3pm ET
About this event
Please join our upcoming Food Rescue Hero Network White House Conference Working Group - Listening Sessions, beginning July 21, 2022 at 3pm ET.
The Food Rescue Hero Network celebrates rescuing 100M pounds of good food this month! That's the result of incredible grassroots day to day actions by each and every one of our Food Rescue Hero Network stakeholders and their communities.
Let's gather to share stories from our everyday experiences to inform the White House on actionable steps we can take to reach our collective goal to recover 2. 5 billion pounds of food by 2030.
Please plan to join as many of these weekly working group - listening sessions as possible:
July 21, 2022 at 3pm ET
July 28, 2022 at 3pm ET
August 4, 2022 at 3pm ET
August 11, 2022 at 3pm ET
August 18, 2022 at 3pm ET
August 25, 2022 at 3pm ET
September 1, 2022 at 3pm ET
At the conclusion of each listening session we will identify a key action for the following week. So please come ready to contribute!
We welcome all of your colleagues to attend as well -- feel free to forward this invite.
For more information about the event, just email rebecca@foodrescuehero.org.