FRESS PRESS CIDERFEST is a collaboration between Onion Creek Cafe + Austin Eastciders, bringing you a great day of cider, food and music.
About this event
Onion Creek and Austin Eastciders bring you a day of fun cider tastin', sausage eatin' and cocktail drinkin' with live music, games & prizes and free swag.
We've invited all of our cider friends to bring out their best! Each cider co. will have cider on-tap and in cans , and of course lots of cider swag.
ANGRY ORCHARD - Boston
ANXO CIDERY - D.C
AUSTIN EASTCIDERS - A, Texas baby!
BISHOP CIDER - Big D
CITY ORCHARD - H-Town
HOUSTON CIDER CO. - H-Town
SAINT ARNOLD BREWING - OG's from H-Town
STEM CIDERY - Denver
TEXAS KEEPER CIDER - Manchaca, TX (Hill Country)
$25 bucks gets you 9 ciders of your choice & sausage pairing - think large flights
*No worries, after your first ticket, you can always buy another round, or buy ciders individually
We'll have grilled Sausages, a whole hot damn plethora of 'em! Cider & Sausage is a heavenly thing.
Cider Cocktail Bar - with tasty creations for your favorite bartenders.
Games & Prizes for Charity!
Bring the dog. Bring the kids.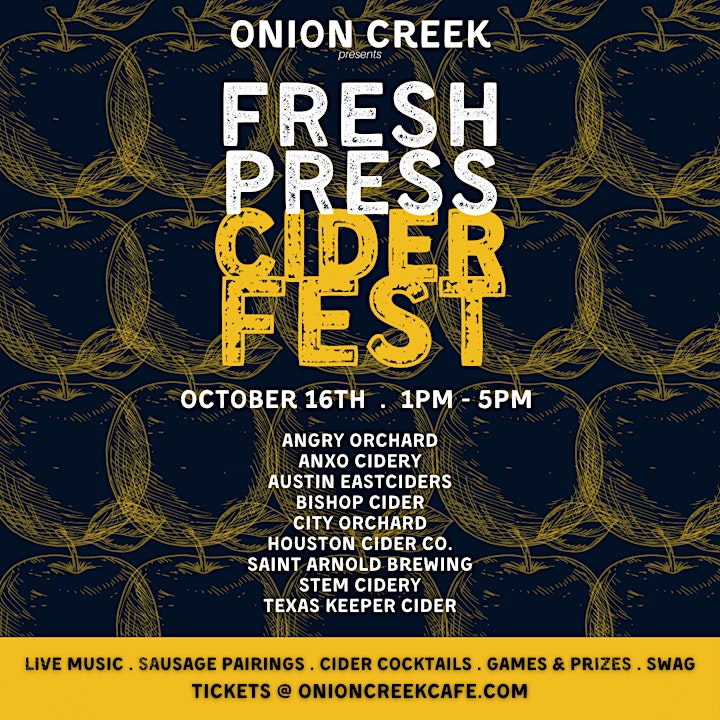 Organizer of Fress Press Ciderfest