About this Event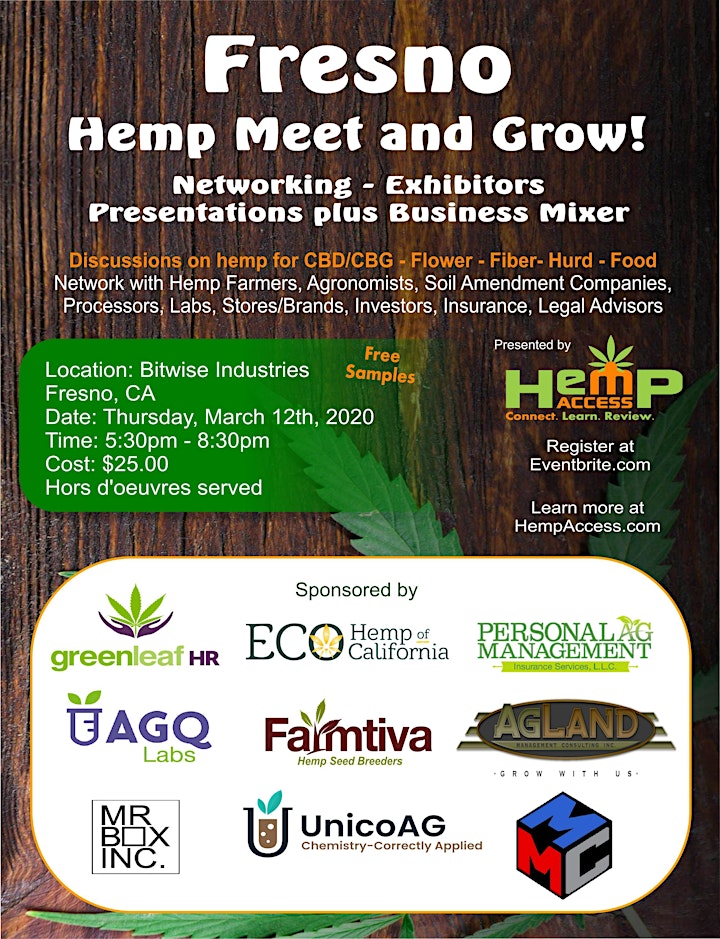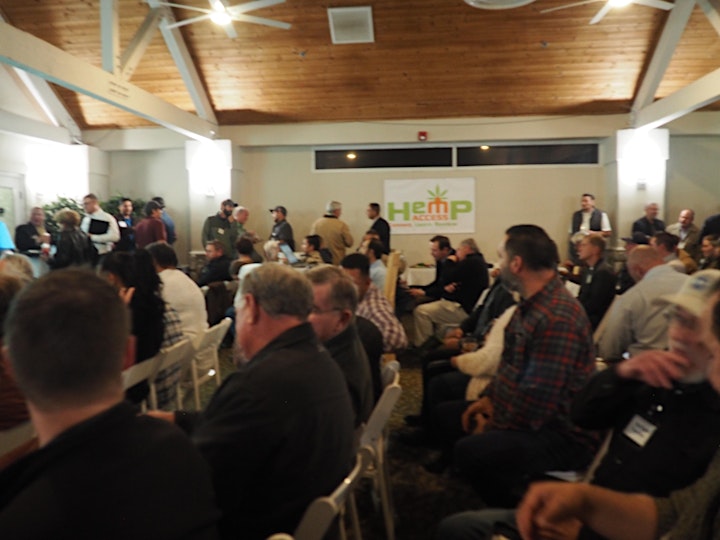 In 2020 HempAccess is organizing (10) Local Hemp Networking, Educational and Mixer Events in the US.
Bakersfield was the first in the series and Fresno is next. See below for event testimonials.
Hemp is quickly becoming a staple crop for many farmers in the Central Valley. Meet and speak with hemp farmers, regulators, processors, labs and business owners. Plus crop insurance, investors and banking representatives.
We will address the growing of hemp for fiber, hurd, food, building materials and nutraceuticals.
Thank you to our sponsors:
---
Kern County Hemp Meet and Grow Testimonials
I had a really great time at the January HempAccess Kern County Meet & Grow event in Bakersfield. My company does business development and events in the California hemp market, so I know a great event when I am at one. It was a super valuable opportunity to speak to and get my materials out to a very targeted and qualified crowd. And what a great crowd it was. A full house of local framers, business people and key county ag officials, all focused on new hemp market opportunities. I saw old business friends, made new friends, and did some valuable face-to-face business development. This is just the kind of event that brings all your email and phone contacts to life. Ollie Danner and the HempAccess network did a real professional job of bringing everyone together and connect them. I have experienced HempAccess.com as a great online platform for connecting my business to new prospects. This kind of local Meet & Grow event is the best way to compliment that with quality time and qualified people. I am really looking forward to the next one!
Brian Webster, CA-Hemp
---
The Kern County Hemp Meet & Grow was much more than expected. The quantity and quality of attendees was excellent and their eagerness to interact was superb. Media coverage was an amazing bonus that placed us in both print and video. This was one of the best events that we have participated in. A great value. Thank you for putting all of this together. Looking forward to the next event.
Sincerely,
Richard Dussaigne, Business Consultant
---
HempAccess.com overwhelmed us with his excellent Bakersfield meeting! Instead of 50 attendees, he provided 150! We asked him to please hold more meetings throughout the state!
Bod DeMatteis, Film Organic
---
"I had a wonderful time attending the 2020 Kern County Hemp and Grow event. Met a lot of very interested farmers in the Central Valley and several farmers who are in their 1st or 2nd year of growing/harvesting Hemp"
Kevin L. Burton
Admin. Director of Corporate Development and Governmental/Public Affairs
---