FRESH LOOK KIDS FILM FESTIVAL

Multiple Dates
Event Details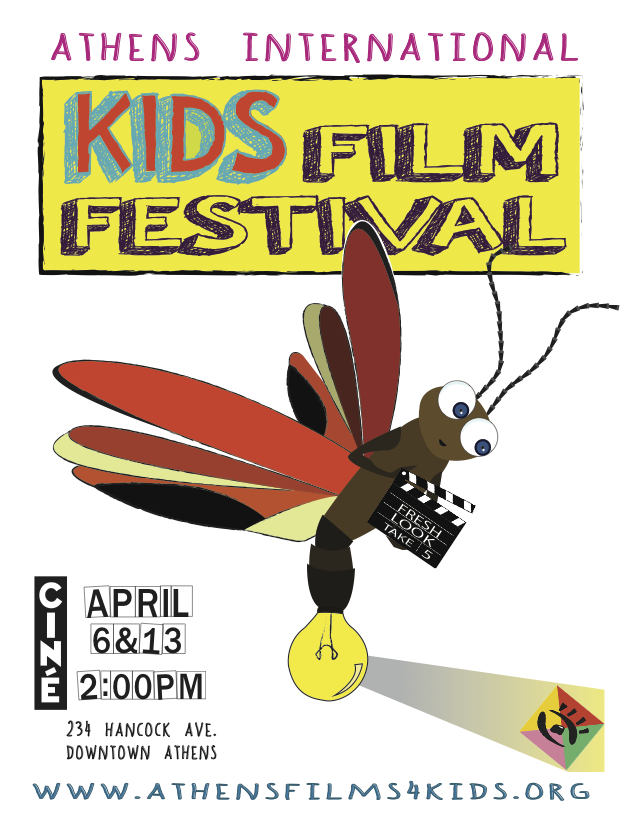 FRESH LOOK KIDS FILM FESTIVAL -- SUNDAYS APRIL 6 + 13
The fifth edition of "Fresh Look" Athens International Film Festival for Children and Youth, screens international independent movies, including animation, documentaries and fiction films, as a condensed introduction to world cinema and to different aesthetics, cultures and realities. A fun event for all ages!
Lineup of films:
- CORRIDA [ 7min, Latvia 2011, Janis Cimermanis ]
- MONSTERSYMPHONY [ 3min, Germany 2012, Kiana Naghshineh ]
- SHAME AND GLASSES [ 7min, Italy 2013, Alessandro Riconda ]
- ACORN BOY [ 10min, Latvia 2010, Dace Riduze ]
- CHICKEN HUNTER [ 6min, Belgium-France 2011, Pascale Hecquet ]
- HEDGEHOGS AND THE CITY [ 11min, Latvia 2013, Evalds Lacis ]
- THE BIG BROTHER [ 6min, Germany 2011, Jesús Pérez ]
- BIG MOUTH [ 8min, Canada 2012, Andrea Dorfman ]
- KOSTYA [ 6min, Russia 2012, Anton Dyakov ]
- ORMIE [ 3min, USA 2009, Rob Silvestri ]
- THE MOLE AND THE SEA [ 5min, Russia, Anna Kadykova ]
More information and film schedule @ athenschildrenfilmfestival.org
SHOWTIMES:  2:00p - SUNDAYS 4/6 + 4/13
ADMISSION:  $7.50
Organizer
Athens Ciné
Ciné enriches the quality of life in Athens GA by presenting film and arts that inspire, educate and build community.  
Ciné is an extraordinary treasure that is unique to downtown Athens. The restored historic venue houses two cinemas, a full bar, and a versatile event space, and is the only independently operated, mission driven, non-profit, community-based art house movie theatre in the region.
Ciné offers the opportunity to share the vitality of a community movie-going experience, and plays a key role in the cultural landscape of downtown Athens, bringing people together to enjoy both the art of good cinema and the refreshment of a good drink. Ciné feeds the heart and mind by reliably providing thoughtful, challenging, inspirational, educational, and thought-provoking works to the local community.
FRESH LOOK KIDS FILM FESTIVAL