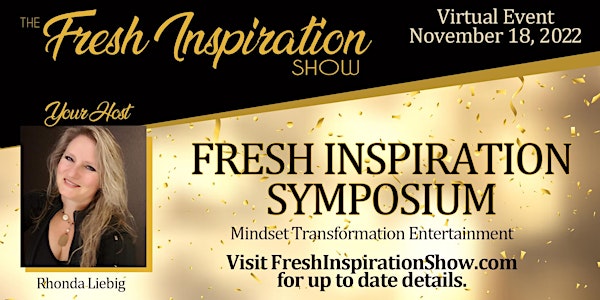 Fresh Inspiration Show Virtual Symposium - 11/18/2022
Thankful, Positivity and Love is the New Smile - Gratitude
About this event
The Fresh Inspiration Show is a monthly virtual symposium full of information from different experts each month. Grab a complementary digital ticket and enjoy your front row seat for Mindset Transformation Entertainment (™). Grab your ticket and receive VIP treatment as you have an opportunity to win prizes, get the recipe of the month specially picked out by the host and founder Rhonda Liebig, and special present. Share this show with friends as this is a bring your friend event.
Since this is a virtual show and workshop (symposium) style we deliver the show straight to you on all your devices which is broadcasted LIVE in Facebook in our community, this is where you will be viewing our show, The Fresh Inspiration Show - Mindset Transformation Entertainment (™) and link will be provided once you grab your ticket. Once TFIS LIVE ends then we are on TikTok (@rhondaliebiginspiration), YouTube (youtube.com/@RhondaLiebig), BEEKONNECTED and Facebook Reels with 1 to 5 minute motivational points from the month's show. This gives you a variety of ways to consume TFIS's mindset motivation in what fits your lifestyle.
This month is a special delight where you get the founder, producer and host of the show all to yourself. You get to ask questions from our Facebook group and Rhonda Liebig will answer them directly as she is LIVE. Here's her motivation strategy for you this month where she is utilizing her Three Energy Revitalize Pillars:
10:00 AM - 10:15 AM Pacific - Opening Ceremony
Let's get into the moment together with opening the door to how you are feeling as you are arriving virtually with us, The Fresh Inspiration Show. Rhonda Liebig, your host and you wellness support for our time together will take you through an exercise to wake up the body and then a motivational discussion on gratitude.
10:15 - 11:00 AM
Rhonda Liebig will be with you as the star of the last show for 2022 year. This months theme is "Thankful, Positivity and Love is the New Smile - Gratitude" and Rhonda will share in her expertise of 20 years in the health industry and also a #superstarspeaker, 12 years in business and 10 years as an accountant and CPA and now running, Vitality Heart Hub. Rhonda has your back when it comes to gleaning on the subject of heart work. She will lead as your Vitality Coach and will share tools and motivation creating a vibe/frequency with her top ways to support you getting into your personal vitality: Freedom, Safety and Healing. Rhonda will be doing mindset exercises connecting to your: Truth, Heart, Healing, Sexy Energy, Authenticity, Receiving, Loving You, and Energy. All these words are tethered with this months theme.
11:00AM - 11:15 Pacific Closing Ceremony
Basking in the transformation from the hour, Rhonda will finish with a lymphatic drain and a meditation before you exit out and into your world ready to infuse the new tools that you have received in the last hour. Rhonda, the founder will share with you TFIS's next year's plan with The Fresh Inspiration Show and how we are currently preparing for 2023 with Fresh Talks - Mindset Transformation Entertainment. This is where we will be inquiring with speakers out in our community to fill out a form to speak on our show with their 10 to 17 minute motivational talk related with the them of the month. As an audience member you get to see quick talks that can transform your day, month, year or even your life.
__________________________
Additional information
__________________________
Once you receive your complementary ticket and come into the LIVE symposium show you receive VIP mindset support . This is where you get to ask questions and comment directly to Rhonda Liebig. Once you opt in you will receive the link into our private Facebook group where you will see us going LIVE and there is where you will be able to interact through the comments. TFIS loves to do this symposium style to allow you to speak what you are feeling or questions you may have throughout the show. This gives you a way to directly interact almost instantly with the information that is being discussed at that moment.
__________________________
The host of the show/ Rhonda Liebig
__________________________
Bestselling author of The FITT Solution and 14 Days to a Flat Belly is an Energy Revitalizer & Cash Vitality Coach. PLUS Rhonda is the founder of The Fresh Inspiration Show and she is enjoying hosting the show lifting and warming the stage for the stars/experts so you receive the best mindset entertainment around. Rhonda has been in the health industry for over 20 years and is known to have "Insightful Vitality Solutions for your Desirable Results".
_______________________________
The show's inspiration that kicked off this unique entertainment in 2018
_____________________________
Rhonda Liebig, I am inspired by concerts and music, actors and stars, and speaker that inspire to create an experience as if you went to the movies and / or concert. When I was younger this was the way that I could get through my day and believe in myself as if the actors/inspirers where my coaches at that time when I needed it the most. This is a show that is unique in that the inspirers that we are bringing to you the top creatives and inspirers for your Mindset Transformation Entertainment. I believe you won't find something around like this around anywhere for the flow of the show and the fun and play we have with each superstar/expert.
_______________________________
We have been LIVE and now we are virtual in Social Media, a Podcast and a TV Show
_____________________________
The Fresh Inspiration Show has spent time with LIVE events as we have toured in Las Vegas, Phoenix, San Francisco, Burbank and throughout Northern California and now in your living room with virtual events, to support the community in creatively living in inspiration and new mindset for lifestyle and business. We have been creating a stage for worldwide superstar speakers to come in and support you and your community. You do not want to miss this unique day with The Fresh Inspiration Show. This event is your key to mindset transformation. Grab your digital ticket and enjoy your virtual front row seat giving you access to our experts and live questions.
We look forward to serving you and your purpose.
Click here to join our Facebook Group!!
Here at the bottom is a testimonial so you know what to expect for the morning.