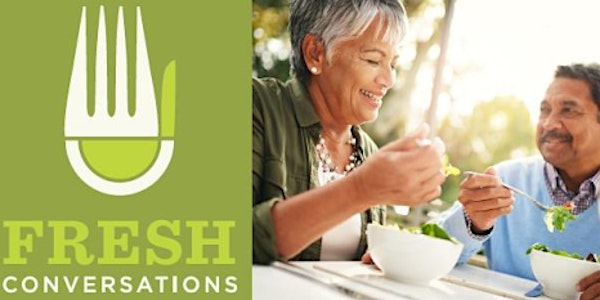 Fresh Conversations
A FREE nutrition and physical education program for seniors offering positively transforming tips and ideas for your personal health!
When and where
Location
Belleview Community Center 5615 Southeast 110th Place Belleview, FL 34420
About this event
Fresh Conversations provides a new, or fresh, newsletter each month. Each issue focuses on a current health topic and offers practical tips and sensible solutions to everyday problems that get in the way of doing what most people want to do: eat well and live well!
The newsletter provides up-to-date information to you from nutrition and health research. You will also find low-cost, healthy recipes, easy ways to be active at home, puzzles and games. Fresh Conversations is also a free opportunity to connect with other older adults for a friendly discussion focued on nutrition and physical activity education with fun conversation and will help you learn how to maintain your health and independence.
Sample topics have included: Heart Disease Myths and Facts, The Downlow on Processed Foods, Keeping Up with Diet Trends, and Heart Smart Choices. Each month sample a delicious, low-cost, healthy recipe perfect for those on a budget!
Register through EventBrite or contact Melissa at the Florida Department of Health in Marion County at (352) 644-2710. Seating is limited, so register to reserve your spot TODAY!