Description
Tha Purrin Lion & The Crew present FRENZI with: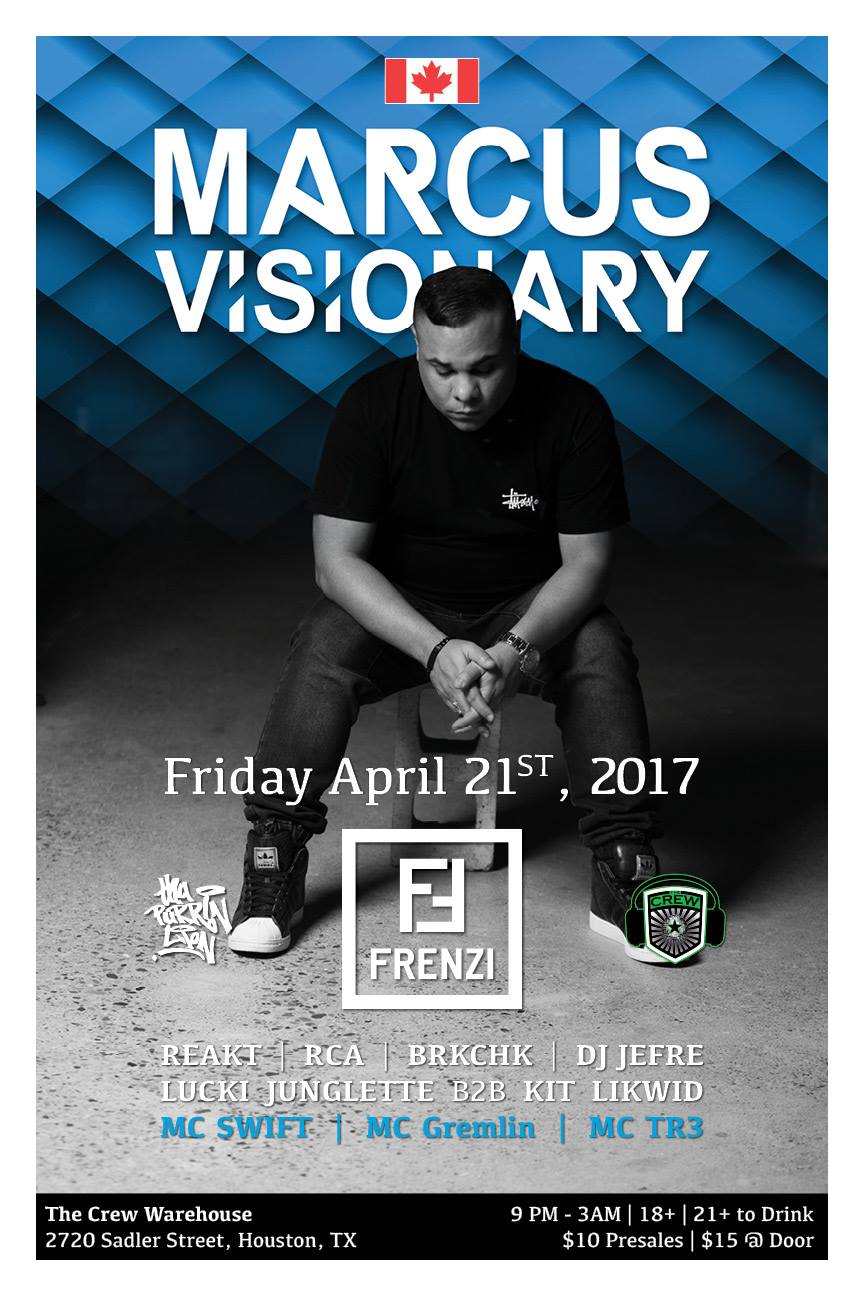 MARCUS VISIONARY - Toronto, Canada
[Digital Soundboy // Liondub International // Inner City Bass // Neccessary Bass]
One of the hottest names in Jungle & DNB in the world right now, it seems like Marcus Visionary has the Midas touch cause everything he touches turns into gold! With over 20yrs in the game, personally signed into the legendary Digital Soundboy family by Shy FX himself, Marcus joined the elite brotherhood alongside the likes of Dj Fresh, Dj Marky, Benny Page, Calibre & S.P.Y.
Priding himself on his tune selection, clean mixing and is well known for his musical versatility and keen ability to read any crowd, his record collection and astute tune selection is second to none. In his hometown Toronto, Marcus has been running the Prophecy on 89.5 FM for 20 Years alongside DJ Prime, Mr. Brown & Gremlinz. The program is North America's longest running Jungle DnB radio show and has been a integral part of the city's developing bass music scene. In 2015 Marcus left the Prophecy in it's 20th year as he was asked to host his own exclusive radio show on the world famous Kool London (Kool F.M). You can catch Marcus the second and last Tuesday of every month from 2-4 EST 7pm-9pm GMT at www.koollondon.com.
After an immense run of critically-acclaimed success, leading to invitations to play at some of the biggest parties and festivals around the world, 2015 culminated in Marcus being nominated Best Jungle Producer at the 2015 We Love Jungle Awards, and being crowned Best Producer/DJ at the 2015 North American DnB Awards.
Hot on the heels of his massive LP Jungle to the World Vol. 1, 2016 heralds in Jungle To The World Volume 2 & 3 with a stellar supporting cast, and the brand spanking new collaboration with NYC Junglist Liondub and select heavyweight Junglists entitled 'Rumble.'
**Join us for the return of FRENZI at The Crew Warehouse! We're bringing back one of our favorites for a special 2 hour set. Not to be missed.**
Local Support:
● REAKT [Kool London | Tha Purrin Lion]
● RCA [Two:Tone Drum N Bass]
● BRKCHK [OK, Nice | Multilux Recordings]
● dj jefre [The Crew | Bass Mafia]
● Lucki Junglette [Bass Mafia] B2B
● Kit Likwid [Bass Mafia | M.I.A. Drum N Bass]
Sound by Tha Purrin Lion
18+ | 21+ to Drink
$10 Presale
$15 @ Door


Follow us for upcoming events:
www.facebook.com/tplsfc
www.facebook.com/officialcrewpage
www.facebook.com/officialbassmafia