French Wine, Women, and Song

Saturday, June 9, 2018 from 5:00 PM to 7:00 PM (EDT)
Event Details
FRENCH WINE, WOMEN, AND SONG


Saturday, June 9th, 2018, at 5 p.m.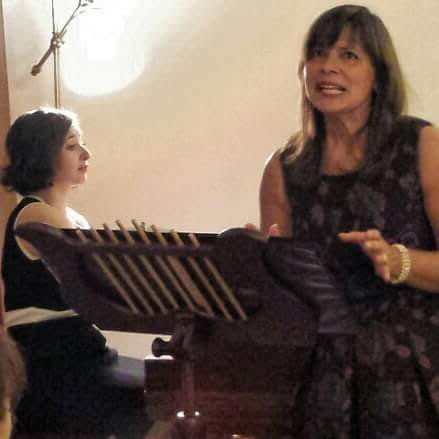 PATRICIA SONEGO, soprano
YELENA GRINBERG, piano 
Dear Friends!
Join us on Saturday, June 9th, 2018, at 5 p.m. for a sizzling salon of FRENCH WINE, WOMEN AND SONG. From the lavish court of King Louis XIV to the decadent dance halls of Paris, French Wine, Women, and Song is a musical tribute to France's rich and glorious heritage of exquisite vocal writing for chamber, salon, and theater performances. This all-French program is a veritable cornucopia of some of the most bewitchingly beautiful romances ever composed, spanning over 300 years of music from the 17th through the 20th centuries. It will feature a kaleidoscopic array of music by the gifted but (unjustly) seldom-heard women composers, including Pauline Viardot, Cecile Chaminade, August Holmes, and Nadia Boulanger, who were celebrated and whose music was published during their lifetime, as well as that of the revered male composers, including Francois Couperin, Camille Saint-Saens, Jules Massenet, George Bizet, Gabriel Faure, Claude Debussy, Maurice Ravel, Darius Milhaud, Francis Poulenc, Eric Satie, and Olivier Messiaen, with whom we are all familiar. Don't miss this dazzling showcase of some of the hottest French Wine, Women, and Song!
Patricia and I look forward to seeing you all on Saturday, June 9th!
 
Best wishes, 
Dr. Yelena Grinberg, founder and artistic director of the Grinberg Classical Salon Series


When: Saturday, June 9th, 2018, at 5 p.m.

          Doors will open at 4:30 pm 
          Food-and-wine reception with guest Artists to follow the performance
Where: Private Residence on the Upper West Side  (West 90s)
          You will be emailed the exact home address after you register through this website
Admission: $30
          Admission price includes the wine-and-hors d'oeuvres reception with the guest Artists
          Limited to just 21 seats!
          Note: Advance ticket purchase through this site is required. NO tickets sold at the door!
Contact: Dr. Yelena Grinberg (ygpiano@gmail.com)
Program:


FRENCH WINE, WOMEN, AND SONG


Elisabeth-Claude Jacquet de la Guerre (1665-1729)
Les amusemens de Monseigneur Le Duc de Bretagne, Dauphin (Louis XIV)
Recueil d'airs sérieux et à boire (1710–24, Text:  anon.)
Heureux L'instant
 
François Couperin (1668-1733)
Air serieux de l'auteur des Solitaires et de la Musette
Recueil d'airs serieux et à boire (1711, Text: anon.)
Brunete
 
Camille Saint-Saëns (1835-1921)

Le timbre d'argent
Le Bonheur est Chose légère (1864)
(Text: Jules Barbier (1825-1901) & Michel Carré (1821-1872)


Jules Massenet (1842-1912)

Poème d'amour
3. Ouvre tes yeux bleus (1878)
(Text: Paul Robiquet (1848-1928))


George Bizet (1838-1875)


Ouvre ton coeur (1860, rev. 1869)


(Text: Louis Delâtre (1815-1893))
 
Pauline Viardot (1821-1910)
1. Fleur desséchée
12 Poems of Pushkin, Fet & Turgenev
 (Text: Alexander Pushkin (1799-1837), Trans. Louis Pomey (1835-1901))
Cécile Chaminade (1857-1944)
Mignonne (1894)
(Text: Pierre de Ronsard (1524-1585)
Augusta Holmès (1847-1903)
À Trianon (p.1896)
(Text: Augusta Holmès)
Gabriel Fauré (1845-1924)
Les Berceaux, Op.23, No.1 (1879)
(Text: Sully Prudhomme (1839-1907)) 
Les Roses d'Ispahan, Op. 30, No. 4 (1884)
(Text: Leconte de Lisle (1818-1894)
George Hüe (1858-1948)

20 mélodies (c. 1914) 
À des oiseaux (c. 1914)
(Text: Eugene Adenis (1854-1923))
Claude Debussy (1862-1918)

Voice que le Printemps (1884, p.1903)
(Text: Paul Bourget (1852-1935))
Guillaume Lekeu (1870-1894)

Trois Poèmes (1892)
III. Nocturne
(Text: Lekeu after Victor Hugo (1802-1885))


Vincent d'Indy (1851-1931)

Madrigal, Op. 4 (1872)
(Text: Robert de Bonnieres (1850-1905)



Nadia Boulanger (1887-1979)
Le Couteau (1910)
(Text: Camille Mauclair (1872-1944))
 
Maurice Ravel (1875-1937)
Cinq Mélodies Populaires Grecques(1904)
4. Chanson des cueilleuses de lentisques
(Text: Fr. Translated from Greek by: Michel-Dimitri Calvocoressi
Darius Milhaud (1892-1974)

Chansons de Ronsard, Op. 223 (1934)
4. Dieu vous gard'
(Text: Pierre de Ronsard (1524-1585))
Francis Poulenc (1899-1963)
Airs Chantés pour soprano d'après des poèmes de Jean Moréas (1927-28)
II. Airs Champêtre
(Text: Jean Moréas (1856-1910)) 
Germaine Tailleferre (1892-1983)
L'Adieu du Cavalier – Hommage à Francis Poulenc (1963)
(Text: Guillaume Appollinaire (1880-1918))
Pancarte pour une porte d'entrée (c.1959, p.2003)
III. L'Oiseau des Îles
(Text: Robert Pinget (1919-1997)
Olivier Messiaen (1908-1992)
Trois Mélodies (1930)
I.  Pourquoi? 
(Text: Olivier Messiaen)
III. La fiancée perdue
(Text: Olivier Messiaen)
Erik Satie (1866-1925)
La Diva de L'Empire (1904)
(Text: Dominique Bonnaud (1864-1943) & Nuna Blès (a.k.a Charles Bessat) (1871-1917)
Jane Vieu (1871-1955)
La Belle au Bois dormant (1902)
(Text: Lucien Métivet (1863-1932))
*******************************
Save This Event
When & Where

Upper West Side

New York, NY 10025


Saturday, June 9, 2018 from 5:00 PM to 7:00 PM (EDT)
Add to my calendar
Organizer
An intimate, elegant, and enlightening series of Classical music salon lecture-recitals on the Upper West Side (West 90s), followed by a food-and-wine reception with the guest artist(s).