Description
Please join us as we welcome Neil Ruane from the Boisset Collection for a French Wine Class.
Boisset is a family-owned collection of historic and unique wineries bound together by a common cause: authentic, terroir-driven wines in harmony with their history, their future and the land and people essential to their existence. With more than twenty historical and prestigious wineries in the world's preeminent terroirs, including the Côte d'Or, Beaujolais, Rhône Valley, California's Russian River Valley and the Napa Valley, each house retains its unique history, identity, and style, and all are united in the pursuit of fine wines expressive of their terroir.
About Neil: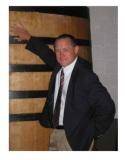 Born in Birmingham, England in 1964, I was introduced to wine in my early twenties attending tasting evenings hosted by parents of a school friend and a slightly crazy German salesman called Herr Stumm. Although we tasted wines from all over the world it was always the French wines that appealed to me most. When these same friends bought a small property in Burgundy in 1992 I decided to abandon my career as a Quality Assurance Engineer for a romantic escapade in wine country. Almost 25 years later that romantic escapade has become my livelihood and my passion. I have now been exporting Burgundy wine for nearly 20 years and my travels have taken me all over the world as an ambassador for Burgundy . I have come to understand the complexity of its « terroirs », the annual trials and tribulations of its growers and winemakers, but most of all to appreciate the wonderful diversity of its wines; legendary chardonnays and pinot noirs from the most complex yet astounding collection of Vineyards on earth.

Neil will guide us through the following wines:
Louis Bouillot

Charles Vienot Chablis

Charles Vienot Macon

Boisset Bourgogne Aligote

Fleurie Domaine Presle Mommessin

Moulin au Vent Domaine Champs de Cours Mommessin

Charles Vienot Bourgone Pinot Noir


Charles Vienot Hautes Cotes de Beaune

and a couple of surprises!