For the 14th year in a row, come to celebrate Halloween the French Tuesdays' way with live entertainment by Live Electronic Artist ASADI.
About this event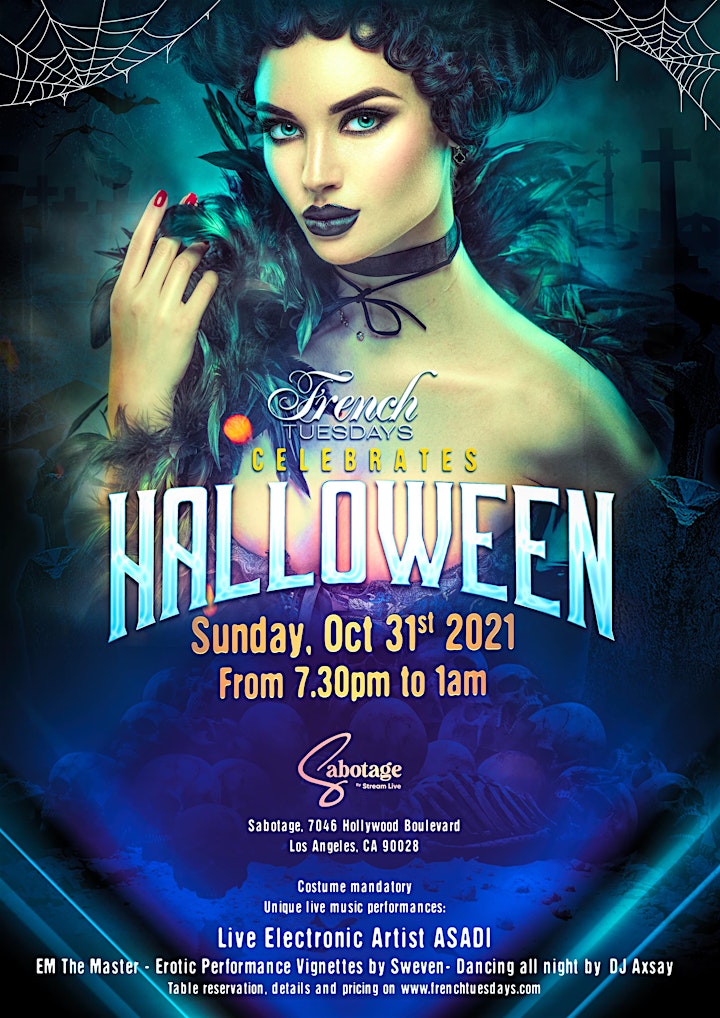 We know that 2021 has been full of trials and tribulations for everyone, therefore after 15 years of memorable Halloween events, French Tuesdays have decided to move forward with a (modified) Oct 31st celebration to perpetuate our wonderful tradition.
What: An evening of live high-energy musical with Live Electronic Artist ASADI, EM The Master, and Erotic Performance Vignettes by Sweven, Dancing all night by DJ Axsay. Digital screens all around the venue, fully costumed participants and much more… Expect the unexpected.
Why: To celebrate our tradition of glamour, creativity, surprises and positives Halloween vibes
When: Sunday October 31st from 7.30pm to 1am
Where: The newest addition venue to the Hollywood nightlife, Sabotage located at 7046 Hollywood BLVD, Los Angeles
Tickets starts at $20 for early birds. Price will increase to $30, $40, ... getting closer to the event.
For table reservation, send a message to la@frenchtuesdays.com indicating the number of people and full name. You need to purchase tickets separately to enter first, food available only for people with a table, there will be a small minimum spending per table too.
21+ years old for this special night out, limited number of tables.
Terms & Conditions:
Tables need to be claimed before 9:30pm
Id that matches the reservation for tickets can be claimed at anytime
Id required to check the name reserved for the table to be able to sit down
Your table will be available all night for you and your guests
No single person tables available
Valet parking available in front of the venue or self-parking available too.
Organizer of French Tuesdays Celebrates Halloween