About this Event
French macarons may be notoriously difficult for the home baker, but now you can learn the secrets from a professional French Chef. Join executive pastry chef Vincent Guiheneuf, and discover how to create this delicious French treat the easy way.
Discover the secrets to the best ingredients, how to make the perfect meringue and find out what gives macarons the best color and flavor. Learn the proper technique for the macaronage and how to pipe your macarons like a pro. Chef Vincent will show you how to make irresistible macarons using the French meringue batter method and how to make the ultimate chocolate ganache - 2 fundamentals of pastry.
This fun workshop is made for all levels with easy to follow instructions.
MENU
Chocolate Grand Cru Macarons with chocolate ganache filling
Bijoux Macaron tasting of limited-edition flavors
Coffee and tea
WHAT TO EXPECT
Hands-on interactive workshop led by Chef Vincent Guiheneuf
Bijoux Macaron tasting with coffee & tea
Take home macarons
Class cookbook
Luxury gift box of the 5 best selling macarons from Bijoux Macarons ($18 value)
Bonus: Online Macaron Kit with step by step videos, piping templates, recipes, troubleshooting guide and much more ($39 value)
All ingredients and supplies are included
Convenient free parking
Small class size
Guests are welcome to bring wine/champagne to enjoy during the class
Macarons are made with almond flour, dairy, and eggs. The filling may contain fruit, nuts, and alcohol. Macarons are naturally gluten-free
*This event requires a minimum of 3 participants to operate. If it's canceled you'll receive a notice with optional dates or a full refund.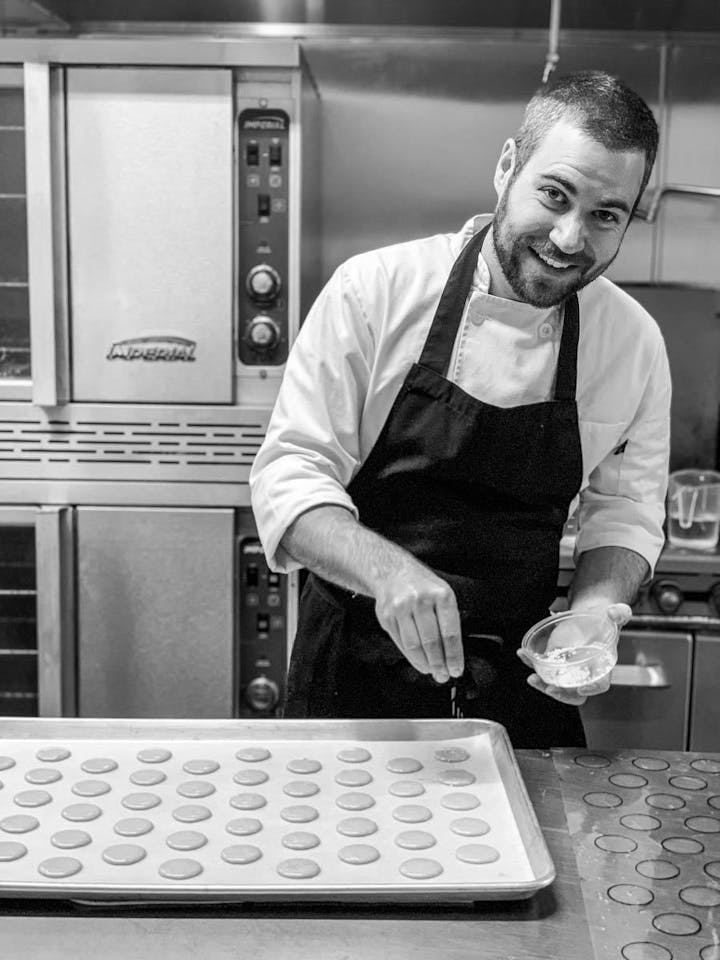 ABOUT THE CHEF
Executive Chef Vincent Guiheneuf is a classically trained chef from Nantes, France. He's worked in fine dining restaurants around the globe including St. Tropez and Courchevel, France; Sydney, Australia; Dublin, Ireland; and Los Angeles. He studied under Alain Ducasse and has three culinary degrees and 14 years experience.
In 2017, Chef Vincent seized the opportunity to teach the CAP pastry exam in France which lead him to create an online macaron class the same year. In 2018, Chef Vincent moved to Los Angeles where he worked at Bottega Louie. Following his passion, he co-created Bijoux Macarons, where he makes irresistible macarons that bring both his experience as a fine dining Chef and as a Pastry Chef for one of a kind experience.
REFUND POLICY
100% refundable ticket up to 7 days in advance. No refunds after 7 days from the date of the event, unless the class is canceled by Bijoux Macarons. In this event, 100% of the class cost and fees will be refunded.
WHAT OUR STUDENTS ARE SAYING
"My favorite thing about this class is seeing how easy it is to make macarons - now I'm not afraid. This class inspires people to do it at home. It takes the fear out of trying to bake." - Ferreby S.
"I had always loved to bake but was intimidated to try macarons because they seemed so complicated; I was an intermediate-level baker before trying Chef Vincent's class. This class takes the guesswork out of making this beautiful dessert. Chef Vincent has thought of everything. These macarons are a crowd pleaser! I recently made some for a brunch and was asked where I bought them. It was very satisfying to say that I made them myself. " - Veronica S.
"I didn't know anything about making macarons before this class. I love the balance of the demonstration with the participation. I watched Chef Vincent demonstrate parts and then was able to practice techniques myself." - Sarah G.
"Chef Vincent really takes the time to explain why and how it all affects the end results." - Sandi B.
"These are the best macarons I've ever had." - Jasmine R.
"Such a fun experience! We learned all about the art of macarons, the process, and I loved the variety! - Ashley R.
"This is a great class! Learn about macarons and you will truly enjoy them more." - Lorenzo Q.
"Coming into the class I didn't really like macarons. But, I ate all of them and loved them. In the past others tasted like sugar and egg without heart. You have to check out Bijoux Macarons. They are the best I have ever had!" -Debra H.