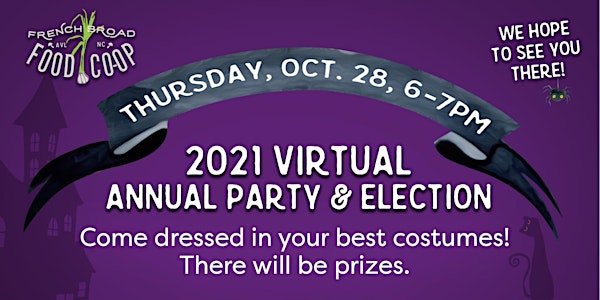 French Broad Food Co+op Annual Party & Election
Join us at your Co-op's Annual Party! Come hear the state of the Co-op and meet your Board of Directors & candidates.
About this event
FBFC Owners in good standing are invited to join us virtually for the 2021 Annual Party. Come dressed in your best costumes! There will be prizes.
Hear from Bobby Sullivan, FBFC General Manager and the Board of Directors about the state of the Co-op.
Learn more about the expansion and what's next for Asheville's only locally owned grocery store.
Celebrate local vendors and hear from Owners.
Hear from the 2021 Board candidates
The Board is now accepting applications through Oct. 19. Please visit frenchbroadfood.coop/elections to apply.
Register and attend the meeting to receive a FREE goodie bag that attendees can pick up at the Co-op by Nov. 30.