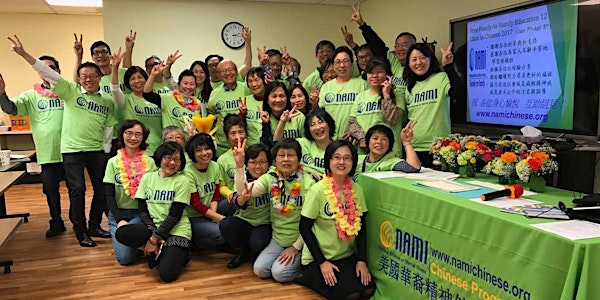 Fremont美國華裔精神健康聯盟NAMI"家連家"2018年普通話免费课程
When and where
Location
Fremont Family Resource Center 39155 Liberty St, Suite A120 Fremont, California 94538
Description
如果您的親人有精神/心理疾病,您該怎麼辦?
如何與患者交流?如何與患者建立良性溝通?
在治療精神/心理疾病上,近些年有哪些醫學上的進展?
您希望與有多年幫助患者的家庭成員分享經驗嗎?
歡迎參加免費十二節精神/心理健康家庭教育課程!
一个十二節課時的專為患者照看者精心 設計的專業教程
Free Family-to-Family Education
12-Class in Mandarin for caregivers/family members.
NAMI認證的培訓導師執教授課語言:普通話 教材:中文繁簡體
Date (日期):Saturday(星期六) 2018
1/6,1/13,1/20*,1/27, 2/3,2/10, 2/17*, 2/24, 3/3,3/10,3/17*,3/24,3/31,4/7,4/14
Time (時間):1:30 p.m. –4:00 p.m.
Location (地點): 39155 Liberty St, Suite A120(Millennium Room) ,Fremont CA 94538
To register (網上報名專線):https://01132018.eventbrite.com
電話諮詢熱線:510-362-1456
電郵:info@namichinese.org
聯繫人:彭一玲 Elaine Peng
Read more瀏覽更多資訊: www.namichinese.org
Classes fill-up quickly,call today to reserve a spot!
名額有限 , 請您盡早報名!