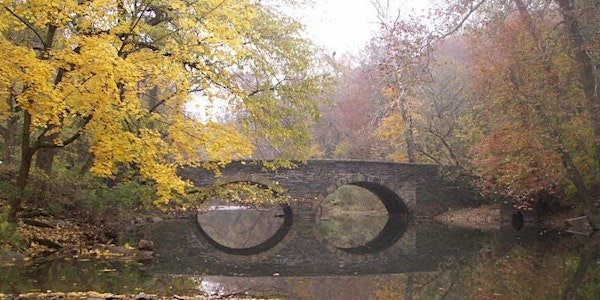 FreeWalkers Marathon -- Philadelphia (Fairmount Park)
Our most diverse and scenic walk of the year. Bring your camera!
Date and time
Saturday, November 4 · 8am - 6:30pm EDT
Location
The Porch at 30th St Station 2949 Market Street Philadelphia, PA 19104
Refund Policy
Contact the organizer to request a refund.
Eventbrite's fee is nonrefundable.
About this event
10 hours 30 minutes

Mobile eTicket
Our most diverse and scenic walk of the year.  Bring your camera!
Start: Porch at 30th St Station
Finish: Chestnut Hill West Station
Distance: 13-26mi
Where to find us: Outside south side of station
Optional endpoints:- East Falls Station, Highland Station and numerous other mass transit options
Terrain: paved, gravel, grass
Transit: Amtrak, Megabus, NJTransit AC and NJTransit/Septa connections to 30th Street Station
Return: SEPTA train
Parking: Many nearby garages and lots. Try 3101 Market St or Cira South Garage
Difficulty: Average / Advanced
Category: nature, history, urban, scenic
Coordinator: Charles Updike
An Autumn Walk in the Park
26.2 miles (or 13.1 miles) from 30th St Station to Chestnut Hill through Fairmount Park and the Wissahickon Valley.
Walk the entire breadth of the city through the largest landscaped city park in the world, Fairmount Park, with the autumn colors at their peak along the Schuylkill River Trail and Forbidden Drive along the Wissahickon Creek.
In the early 19th century, the Wissahickon was a hub for small industry, due to its steady water flow for powering mills. When industry moved downtown, the area was preserved to protect the water supply for the region, producing an environment that became world renowned for its beauty and inspired the works of Walt Whitman, John Greenleaf Whittier, Edgar Allen Poe, Christopher Morley, and Currier and Ives. Forbidden Drive is so named for its prohibition of all motor vehicles. The Wissahickon Valley has a stillness untouched by time, strange for one of the world's larger cities, and is surely Philadelphia's best kept secret, offering as appealing a walking route as is available for a hundred miles around.
"The Wissahickon is of so remarkable a loveliness that, were it flowing in England, it would be the theme of every bard." -- Poe
"Some of my happiest hours have been spent there, some of my freest hours." -- Whitman
Our journey begins at 30th Street Station, with convenient connections to Septa, NJ Transit, Amtrak and Megabus. The walk ends in the tony main-street neighborhood of Chestnut Hill, where we shall meet for eats and libations, with two train stations available to carry us back to 30th Street. Easy gravel and paved terrain, with very few road crossings after one leaves Center City. Two snack bars with nearby bathrooms assist along the way.
The half-marathon route is a shortest-distance trek along the Schuylkill and Wissahickon. The full route provides a broad and meandering treatment of all of the many highlights of sprawling Fairmount Park, along with visits to the places of debate and worship of our founding fathers, the site of the 1876 Centennial Exposition, the world's tallest masonry building, dozens of works of public art, and the nation's most pioneering and pedestrian-friendly cemetery, replete with graves of countless war heroes, inventors, tycoons and even local icons like Harry Kalas and Rocky's Adrian Balboa.
MARATHON WALK Highlights
University of Pennsylvania
Schuylkill Banks Boardwalk
Rittenhouse Square
Washington Square
Independence Hall
Carpenters Hall
Spruce Street Harbor Park
Penns Landing
Christ Church
City Hall
Logan Circle
Ben Franklin Parkway
Art Museum steps
Fairmount Waterworks
Boathouse Row
Kelly Drive
Memorial Hall
Japanese House and Garden
Belmont Plateau
Strawberry Mansion Bridge
Laurel Hill Cemetery
Falls Bridge
Wissahickon Creek
Battle of Germantown
Forbidden Drive
Valley Green Inn
Magarge Dam
Covered bridge
Chestnut Hill
HALF-MARATHON Highlights
Fairmount Waterworks
Boathouse Row
Kelly Drive
Falls Bridge
Wissahickon Creek
Battle of Germantown
Forbidden Drive
Valley Green Inn
Magarge Dam
Covered bridge
Chestnut Hill
Visit freewalkers.org for ongoing event info: http://freewalkers.org/events
Partners:The East Coast Greenway Alliance is a non-profit organization developing a public multi-use 3,000 mile trail from Canada to Key West through New Jersey and New York. Donations and memberships help make this dream trail a reality.
Circuit Trails is 800 miles of interconnected trails in Greater Philadelphia in the making, already one of America's largest trail networks. Once connected, the Circuit Trails will be one of the nation's premier urban trail networks and it will provide multiple benefits to neighborhoods, communities and the region as a whole.
About the organizer
FreeWalkers is a non-profit 501(c)3 social organization and network for individuals interested in participating in distance walking events. Our group is free and open to everyone. We encourage each member to accomplish challenging goals as we work together, experience, and promote pro-pedestrian issues. Paricipants accept responsibity for themselves on the walk.