Freestyle Session one of the worlds premier Breaking events. Watch some of the best in the world battle it out live.
About this event
CROS1 & Grassroots Productions
bring you
Freestyle Session 2021
11/13-14 at LA BOOM 6611 S. Alameda St. LA, CA 90001
11/13 - 12noon-8pm
11/14 - 12noon-9pm
presented by Pro Breaking Tour sanctioned by UDEF
5 vs 5 - Breaking Crew Battle
1 vs 1 - Over 40 Breaking Battle
1 vs 1 - Popping Battle
1 vs 1 - Open Styles Battle
2 vs 2 - 15 and Under Kids Battle.
PRELIMS for ALL BATTLES will start at 2PM please be prompt. Late arrivals will be turned away from battling if you are not SIGNED UP BEFORE THE EVENT.
Tickets on sale NOW - https://www.eventbrite.com/.../freestyle-session-2021-los...
TO REGISTER FOR BATTLES please go to https://breakkonnect.com/event/1503
MC's CROS ONE
IVAN the URBAN ACTION FIGURE
Devious
Dj's
Lean Rock
Element
Fleg
Skeme Richards
Charlie Rock
Bles One
Abel
Roxswift
more to be announced
Judges
5 vs 5 Bboy/Bgirl Crew Battle
Abgirl - Domestic Apes
Wing - Jinjo Crew
Twixx - Massive Monkees
Iron Monkey - Renegades
Goku - Soul Control/Climax
Alternate/Prelim judges
Reveal
Frankie Flav
Over 40+ Battle
presented by Flow Water
Prize -
$1000 + Championship ring
Judges
Flo Master - Footwork Fanatics
Wicket - Footwork Fanatics/Renegades
(Defending Champion)
ICE MAN
Kids 15 and under Bboy/Bgirl Battle
presented by A.Fatti
Prize -
Trophy, Prize Pack + $500
hosted by LIL ROCK
judges
G-Wiz - LA
Reveal - Rock Force / Killafornia
Eddie Styles - Rock So Fresh - Full Force
Popping Solo Battle
presented by A.Fatti
Prize -
$1000 + Championship ring
Hosted by Gr818ers
Judges
Sweepy - Hawaii
Money B - Playboyz
Rashad - Soulmatic
Open Styles Battle
presented by A.Fatti
Prize -
$1000 cash + Championship Ring
Hosted by Gr818ers
Miss Funk - Versa-Style
Judges Orb - Circle of Fire
Miss Prissy - Queen of Krump
Covid Venue Restrictions - To be able to gain entry into the event you must either present a negative test result within 72 hours of the event(PCR or HOME), a Vaccine Card or a letter of religious exemption. Kids 12 and under are exempt from this.
Link to Test sites - https://www.arcgis.com/apps/Nearby/index.html?appid=43118dc0d5d348d8ab20a81967a15401
More to be announced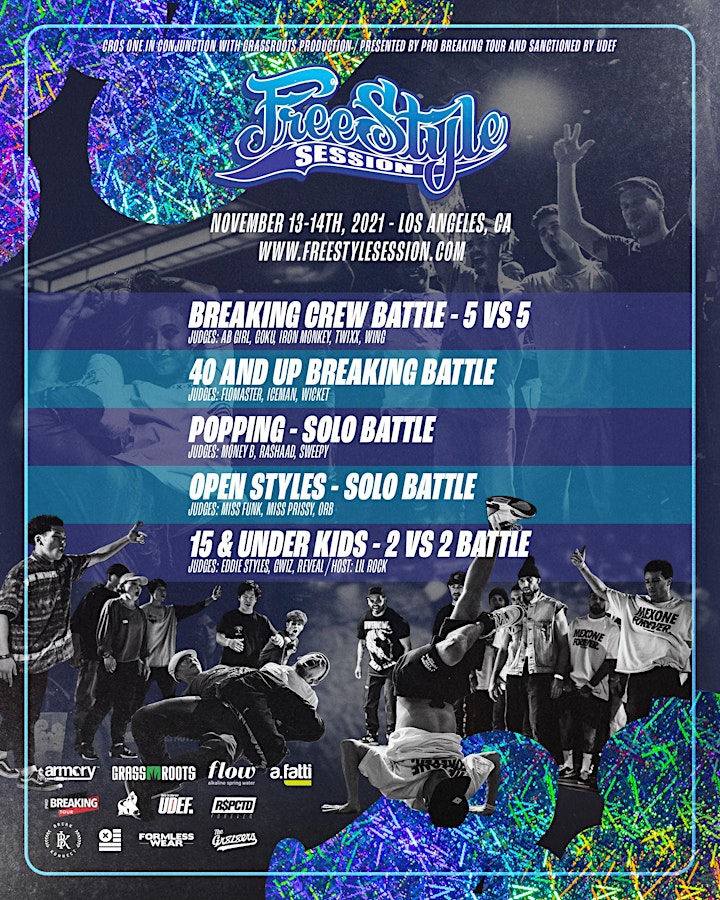 Organizer of Freestyle Session 2021 - Los Angeles
CROS1 and Grassroots Productions have teamed up for over 20 years to bring you this monumental event.  CROS1 tours extensively worldwide all year round to find the best talent to bring to the event with Worldwide Qualification events.  Grassroots Productions is a leader in entertainment talent and booking as well as world class production.