SIP Maker's Mark Kentucky Bourbon & SHOP at Holiday Wine Cellar, Saturday, April 10th from 12PM-3PM.
About this Event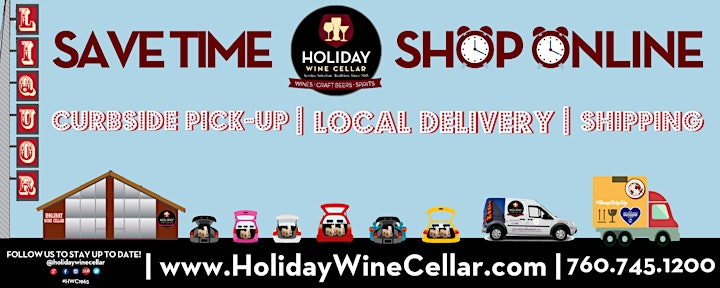 SIPpers & SHOPpers must be 21+ years of age or older to enhance their Holiday Wine Cellar experience and enjoy a *FREE tasting with Maker's Mark Bourbon & Maker's Mark 46 Bourbon Whiskey.
From Maker's Mark's site:
Meet the Maker's Mark® family.
Maker's Mark® began with one family's quest to create a bourbon they enjoyed drinking and sharing with friends. That's hardly revolutionary today, but in 1953 it changed an industry.
Bill Samuels, Sr.'s quest to create Maker's Mark® began with his only copy of the family's trusted, 170-year-old recipe. The one the sixth-generation distiller promptly set on fire, of course.
After accidentally burning a set of drapes in the process, Bill experimented with different flavoring grains, searching for a mash bill all his own. To save years of aging time, Bill baked several loaves of bread with various grain combinations instead of distilling them. His quick thinking not only saved time but also led him to swap out the traditional rye grain that is commonly used in bourbons, for soft, red winter wheat. This replaced the hot bite of rye with the delicate sweetness that Maker's® is known for today.
"Give me a bourbon that won't blow my ears off." ~ `Bill Samuels, Sr.
Margie Samuels: Making her mark.
The flavor of Maker's Mark stood out from the crowd, so co-founder Margie Samuels wanted to ensure the bottle did the same on store shelves. It's said that Margie is the reason most folks buy their first bottle of Maker's Mark and Bill is the reason they buy their second. The shape of the bottle, look of the label, signature red wax topper and even the name itself are all thanks to Margie.
The Kentucky Bourbon Hall of Famer (the first woman involved with a distillery to be inducted, by the way) hand-dipped the first bottles in her kitchen using a home fryer to melt the wax. Margie's fried chicken was never quite the same, and neither was the whisky business. While every sip of Maker's® tastes just like the one before it, no two bottles are exactly alike. Those red tendrils give each bottle its own unique flourish.
"My aim was to bring good taste to tastes good." ~ Margie Samuels
A ROCKET SCIENTIST'S METEORIC RISE
Bill Samuels, Jr.
When the son of Bill and Margie took over as president in 1975, his father's only words of advice to Bill Samuels, Jr., were "Don't screw up the whisky." Bill, Jr., has honored that wish while displaying a flair for innovation – just like his parents. He created a first-of-its-kind Ambassador program that allows Maker's Mark's biggest fans to feel like part of the family. And, like his father, Bill, Jr., made his mark on the family legacy and the bourbon category itself in 2010 with Maker's Mark 46™, the brand's first new major product in over 50 years.
Bill, Jr., did whatever it took. He'd wear a dress, impersonate Elvis or sing with Little Richard if it promoted Maker's Mark.
"Creating Maker's Mark 46 was trickier than working on the damn Polaris missile." ~ Bill Samuels, Jr.
THE PASSING OF THE WAX
Rob Samuels.
Since the ripe, old age of nine, the grandson of Bill, Sr., and Margie has worked at virtually every position in the distillery. Today, Rob is in charge of not "screwing up the whisky" – as his grandfather so elegantly put it. This means honoring that patiently handmade, high-quality ethos of his forbearers while figuring out how to make more Maker's Mark for the world. And, of course, there's the Maker's Mark® Private Selection program which leaves many eager to see what new inspirations lie ahead.
"Bourbon is nature, distilled." ~ Rob Samuels
*LIMIT 3 | Shop & Sip Responsibly | 45%–58% Alc./Vol.
#HWC1965 #FREEsips #SipAndShop #ShopAndSip #SIPfree #SippinSaturday #SaturdaySIPandSHOP #FreeBoubron #MakersMarkBourbon #MarkersMark #MakersMarkKentuckyStraightBourbon #BourbonWhiskey #FreeWhiskey #NorthCountySanDiego #Escondido #LandmarkStore #HolidayWineCellar #KeepingEscondidoCool