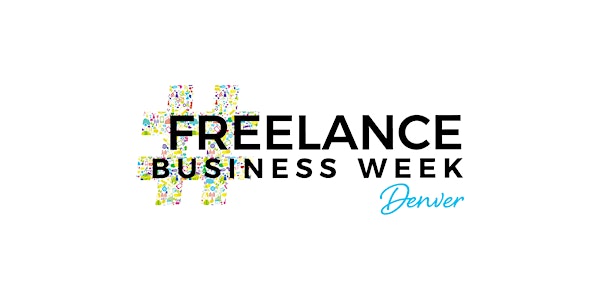 FREELANCE BUSINESS WEEK Denver
When and where
Location
Various Locations Denver, CO 80014
Description
The workforce is reshaping itself. More and more people are "going freelance"—for the flexibility, the freedom, and the increasing opportunities offered by our changing economy.
So Denver is hosting an exciting, transformative conference for this fast-growing segment of the workforce. FREELANCE BUSINESS WEEK DENVER (#FBWDEN) will offer five days of learning, connecting, collaborating, and skill-sharing for freelancers—and those who are contemplating freelancing. With workshops, presentations, fireside chats, and panel discussions throughout Denver, attendees will learn to build their freelance business—and connect with other freelancers who can help them.

Need Childcare? Full experience ticket holders will recieve 50% off for onsite childcare throughout the week from Nanno
About #FBWDENVER
We are your community, together we are all better. As freelance business owners, it is far too easy to work in a vacuum and diminish our growth and creativity. We owe it to ourselves and our city to keep growing.
We are Freelance Business Week to Denver to honor your hard work, provide you with the resources to push through roadblocks in your business and achieve your dreams. Come out and join us, expand your network and broaden your view of possibilities.
This Event is Designed For You!
We have designed #FBWDEN around four distinct tracks for freelancers both new and established, digital nomads (and those who are curious about the lifestyle), and creatives. Read more about the experiece we wish to create.
Startup
Make your freelancing dreams a reality.
This track is for anyone looking to get started or to dive deeper into freelancing. Do you want to turn that side hustle into a full-time job? Or just leave your job and become your own boss? Follow this track to learn the basics and get what you need to set off on the right foot.
Established
Level up your career.
You're making it work as a freelancer and you love what you do. But now you're thinking about leveling up. Maybe you could launch some new products or income streams. Or focus your niche or find new clients. Get inspired with ways to level up your business, learn new skills, meet new people, and give yourself a brighter future.

Nomad
Live your best life, anywhere you want.
This is for current and aspiring nomads who want to explore the world while maintaining a freelance business. If you want the stability of a healthy career but the freedom of an untethered lifestyle, this track's for you. Get your learnin' on, and live that camper life, friend!
Creative
Your passion can be your job.
You're a creative making the world a better place through your expression. Learn how to get paid for living your passion. We will help you understand the boring stuff so you can get back to what you love.