Event Information
Refund policy
Contact the organizer to request a refund.
Eventbrite's fee is nonrefundable.
Freeing the Genius Within Students of Color- 4 Part Series: Fun workshops that offers an effective approach to inspire Students of Color
About this event
Exclusively offered through Kingmakers of Oakland
Want to connect more with students of color? Want to see the light of awareness and an excitement for education be born within them?
Freeing the Genius Within Students of Color is a fun & interactive workshop/experience that offers an effective approach and practice to inspire all students with an emphasis on students of color. This is NOT YOUR RUN OF THE MILL/SAME OLE TEACHER TRAINING.
It is a 4 part series that will touch on the successful educational perspective that gave rise to a rich intellectual heritage of people of color before the founding of America. The practices that are currently called culturally relevant have actually been in practice since the emancipation proclamation within the US. We explore those mindsets and practices. We go deep into the Khepera 12 Point Pedagogical(teaching) Approach that has changed the lives of students and offers very concrete practices. Speak with successful teachers that have been using the approach and how it has transformed their classrooms.
Each workshop will build on the previous but can also be attended individually. We guarantee even one session will be of benefit.
Come have fun, learn and continue your journey to becoming a master educator.
Session 1 | Jan 26th - Building a New Foundation for Equitable Practice
Session 2 | Feb 23rd - Inequitable Pedagogies
Session 3 | April 20th - Being a Transformative Educator in Practice
Session 4 | May 12th- Personified Education : A New Way Forward
Each workshop is pay-what-you-can pricing, with a suggested price of $75 per session.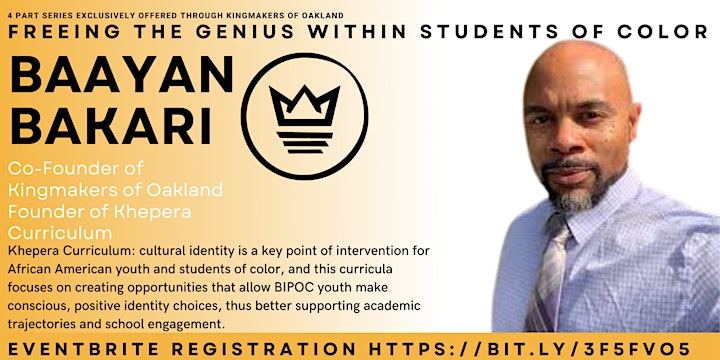 The Lead Facilitator of Freeing The Genius within Students of Color is Baayan Bakari - a nationally recognized educational consultant with expertise in racial equity, pedagogical approaches and developing culturally relevant curriculum. He is the Co-Founder of Non-Profit Kingmakers of Oakland and the founder of Khepera Curriculum. His award winning Khepera Curriculum will be the basis of these 4 part series workshops.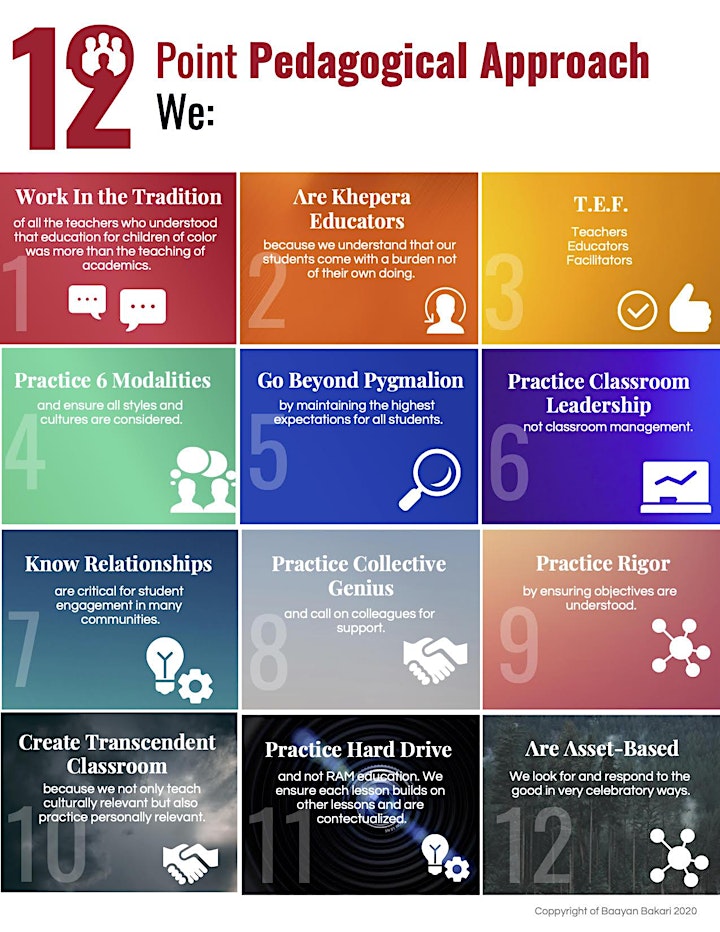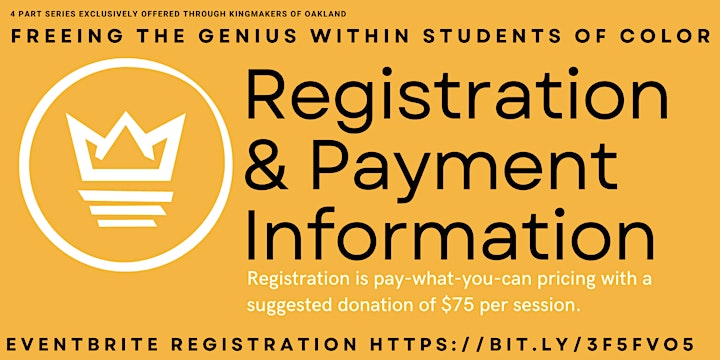 Registration Payment Information:
Nobody will be turned away for lack of funds! We also committed to supporting people to navigate structural barriers that can limit them from accessing our events. Registration is pay-what-you-can pricing with a suggested donation of $75 per session.
Registration by credit card right here on Eventbrite is our preferred method. We are a small (but mighty) organization and processing and collecting check payments for our events has a high administrative impact.
If you need to pay by check or PO, or if you need an invoice generated in order to process payment, please email info@kingmakersofoakland.org with your request.
Refunds are not available for this event.
Notice of Recording: When you attend this online event, you enter an area where audio and video recording may occur. By entering the online event, you consent to such recording media and the release, publication, exhibition or reproduction of your photograph, voice, or image. For further information click here.
Please contact Kingmakers of Oakland at info@kingmakersofoakland.org or visit our website at www.kingmakersofoakland.org.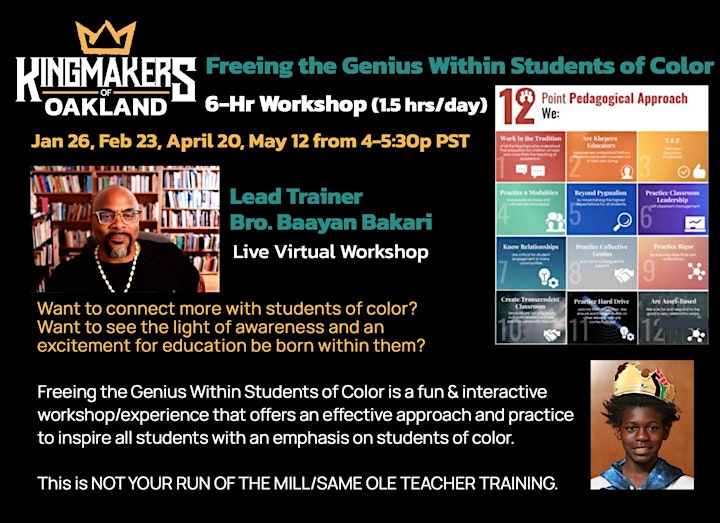 Location
Refund policy
Contact the organizer to request a refund.
Eventbrite's fee is nonrefundable.