Freeing Refrains with Rie Gilsdorf: more Stories, Convos, and Songs
Listen, sing, and dialogue with others about limitations and freedom. Open to all.
About this event
Freeing Refrains is a storytelling space reflecting on the questions of what binds and liberates us.
In May we invite Rie Gilsdorf to share their story. Get to know them through their bio (below) and an interview we did recent here.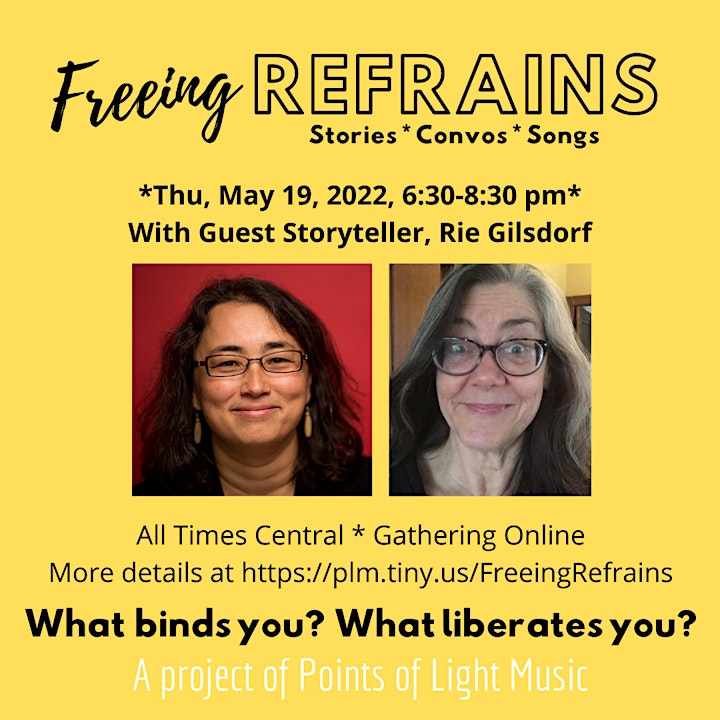 Image Description: An event announcement with mostly black lettering on yellow.
Header says: Freeing (in a handwriting-like font) Refrains (in bold outlined capital letters) with "stories, convos, songs" in smaller font underneath.
Then event information: Thursday, May 19, 2022, 6:30-8:30 p.m. with guest storyteller Rie Gildorf.
In the middle of the image are two pictures of faces: On the left is a smiling person of ambiguous ethnic ancestry against a red background with hair that is dark, shoulder-length, wavy, and parted over their right eye. They wear wide-narrow glasses and cream colored earrings that dangle from their ears.
On the right is someone smiling with bright eyes behind round glasses. Their salt and pepper shoulder-length hair is parted over their left eye. Their skin tone is more pale. The age of the person on the right seems to be a generation older.
More event information is listed: All Times Central. Gathering Online. More details at https://plm.tiny.us/FreeingRefrains.
Tagline: "What binds you? What liberates you?" in black bold letters. Underneath that in slim white letters "A project of Points of Light Music."
--
Full bio for the guest storyteller: Rie Algeo Gilsdorf, MS, MA, has broad experience as a principal, arts administrator, facilitator, coach, teacher of science and dance, and parent in innovative public, private, magnet and charter schools. She spent her early career delivering, designing and guiding arts-integrated, student-centered learning, and most recently spent five years at Courageous Conversation learning how to engage productively in equity work as a white woman.
Throughout her career Rie has also facilitated adult learning that develops capacity to achieve equity across race, gender, sexuality and ability in redesigned schools and progressive faith communities.
She now provides racial equity seminars, coaching and consulting through Embody Equity. Rie has been trained as an Advanced Practitioner of Social Presencing Theater and an Affiliate Practitioner of Courageous Conversations About Race.
Their website: https://www.embodyequity.com/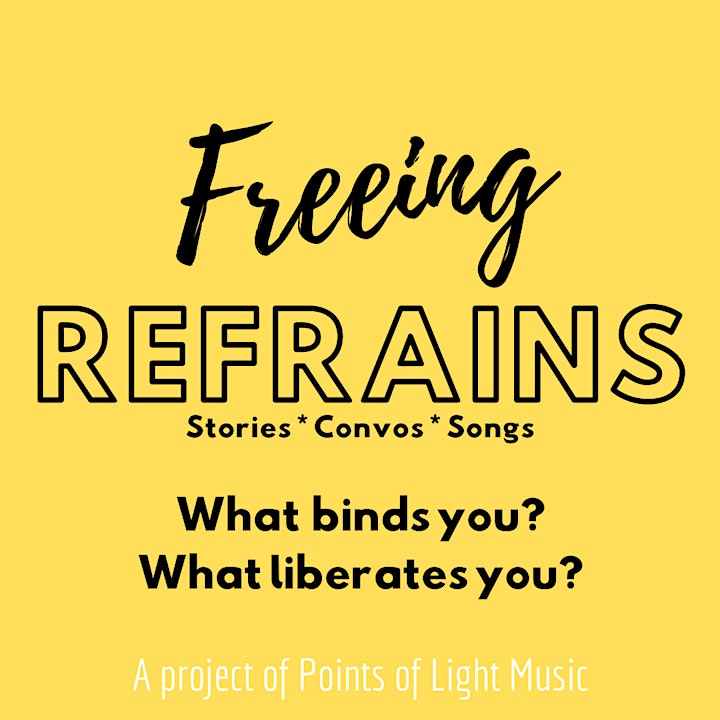 This gathering is a prototype of the storytelling space imagined for Biracial & Rural (BnR), a community of care and storytelling space. In 2022 Freeing Refrains is inviting guest storytellers to share and complexify our reflections on what is restricting and empowering.
The current BnR dream is to come together in arts based retreats over the summer and continue the connection virtually over the winter. Retreats culminate with participants sharing their story at an Open Mic event to foster community dialogue. Read more at http://www.pointsoflightmusic.net/p/biracial-rural.html.