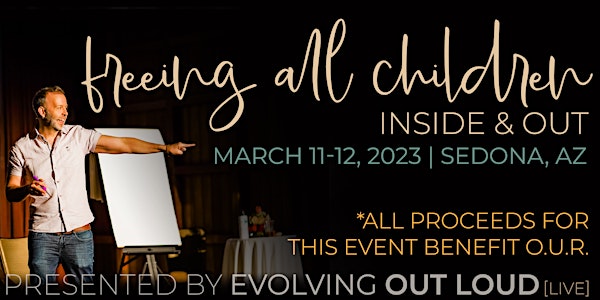 Freeing All Children, Inside and Out
Description
When and where
Location
Sedona Performing Arts Center 995 Upper Red Rock Loop Rd Sedona, AZ 86336
About this event
Join us for two days as you laugh, play, heal and release the imprisoned inner child that lives within you.
Inside of your body is a true you that has desires, hopes, and dreams. It wants to play, it wants to be seen, it wants to show who it truly is, it wants to know that it's enough as it is… this event is an opportunity to free your inner child while at the same time supporting freeing other children who are literally imprisoned in traps and situations they didn't ask for and do not deserve to be in.
This event: Freeing All Children, Inside And Out, is just about liberation. This is about liberating your soul and the liberation of the entire world. The donation you are making is to Operation Underground Railroad. O.U.R. exists to rescue children from sex trafficking and sexual exploitation.
Our Evolving Out Loud events have always been about liberating your soul, and we are now at a consciousness where that must happen. We now live in a time where freeing your soul and freeing your inner child is required. This event is about looking at our own inner shamer and our own inner rules, and our inner arbitrary old stories that have stopped us from true freedom.
Maybe you have a part of you that's co-dependent, maybe you have a part of you that gets angry or is really sad, or scared… These things are here to be seen, understood, and healed because on the other side of that is a world that might not be familiar, but is completely the true you. On the other side of that is a magical, synchronistic, joyful, expansive planet that we have never truly seen in its entirety before.
Join us as we finally heal by being real with what's going on and making real change in the world versus optimistic spiritual bypassing. You'll be shocked at how much better the world is when you see the truth of what you are when you face it and heal it.
In this time, the way to move forward is to see the truth for what it is.
Let's do this together.
**All donations made are non-refundable and non-transferrable.
**This is a 16+ event.
Freeing Children, Inside and Out is not an Operation Underground Railroad ("O.U.R.") Event. Evolving Out Loud is the sole host of Freeing Children, Inside and Out . All proceeds raised through ticketing and donations from registration benefit Operation Underground Railroad. Evolving Out Loud is the owner of such event and all registrations and participations are the responsibility of Evolving Out Loud.