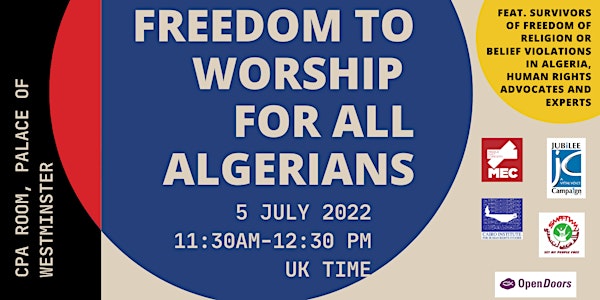 Freedom to Worship for All Algerians
How can UK and other policymakers work to promote FoRB in Algeria
When and where
Location
Palace of Westminster Houses of Parliament London SW1A 0AA United Kingdom
About this event
The detention and sentencing of Christian convert Hamid Soudad comes amidst an increasingly hostile national climate for religious and ethnic minorities and freedom of belief, as illustrated by the sentencing of academic Saïd Djabelkhir for blasphemy and the prosecution of Christian political activist Slimane Bouhafs, a refugee abducted from neighboring Tunisia, on trumped up politically-motivated charges. Algeria has unscrupulously classified human rights activists and political dissidents as 'terrorists' to justify detaining them. In addition, as of February 2022, Algerian authorities continue to keep 16 EPA churches shuttered, with an additional four threatened with closure, and have also been shutting down Ahmadi houses of worship.
Algeria's violations of religious freedom are also occurring in a wider context of repression. At least 2,000 people are currently being prosecuted for exercising their fundamental rights. Religious and ethnic minorities are increasingly targeted, notably with arbitrary terrorism-related prosecutions and blasphemy charges. As the country's Universal Periodic Review approaches in 2022, Algeria will be keen to show a positive human rights record.
This fringe event is convened in conjunction with the International Ministerial Conference on Freedom of Religion or Belief in London to amplify the advocacy for freedom of religion or belief in Algeria.
***This event is also available for virtual attendance via Zoom. Participation link will be sent out to event registrants closer to the date of.***