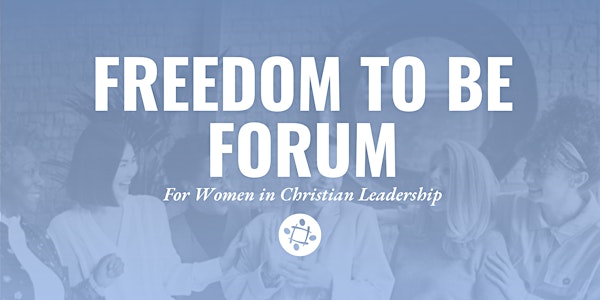 Multiple dates
Freedom To Be
Encouraging women to thrive in Christian leadership and have the freedom to be who God is forming us to be.
Date and time
February 3 · 9am - March 31 · 10:30am PST
About this event
Women in Christian Leadership Forum: Freedom to Be
This online forum aims to create an environment where women in Christian leadership in the New England area discover new abilities and share. This is not about finding experts to answer questions for us. Instead, as women in Christian leadership in New England, we want to create a space to talk about our experiences and explore ways to find greater freedom for ourselves and others. Each 1.5 hour Zoom session will combine small group conversations with a time for reflection by a panel of New England female leaders. We will ensure a safe environment for all attendees by not recording these sessions.
This series of three zoom events will focus on a different challenge that women may face especially in Christian leadership such as age, cultural differences and leadership development. Please mark your calendar for the following upcoming events:
February 3rd: Freedom to be …. across contexts (ministry framework)
March 3rd: Freedom to be …. across generations (age)
March 31st: Freedom to be …. across cultures (cultural differences)

This event is sponsored by World Vision.
World Vision is a Christian humanitarian organization dedicated to working with children, families, and their communities worldwide to reach their full potential by tackling the causes of poverty and injustice. Motivated by our faith in Jesus Christ, we serve alongside the poor and oppressed as a demonstration of God's unconditional love for all people.
About the organizer
Vision New England is a member-driven Association of churches, denominations, ministries and believers passionate about evangelism in New England. We are committed to accelerating evangelism by connecting ministries and believers to others so they can share, learn, and identify opportunities to collaborate and be encouraged.