Freedom Summit Chicago 2020 is heading north to Wisconsin for a full day event featuring Larry Elder, Charlie Kirk, and Candace Owens.
About this Event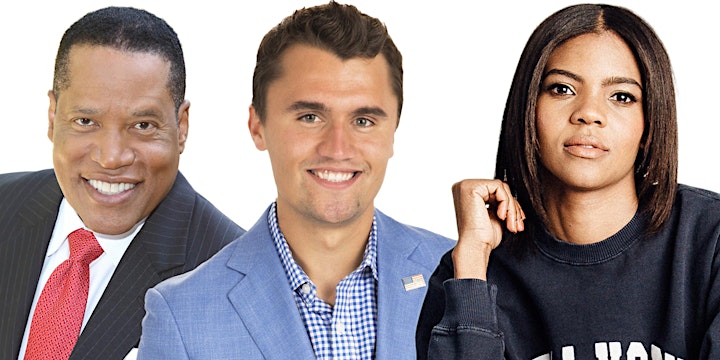 Several different tiers of tickets are available:
VIRTUAL TICKETS: Includes access to a live video stream of the event beginning at 9am CT on Oct. 31. The entire event will be streamed live, including break-out sessions.
*** ALL IN-PERSON TICKETS ARE NOW SOLD OUT ***
PLATINUM TICKETS: Includes premium reserved seating in the ballroom and all meals on Saturday — breakfast, lunch and dinner. These tickets also include access to a Friday night VIP reception and live broadcast with Larry Elder. In addition, these tickets include access to the VIP Meet and Greets on Saturday at 11:30am with Larry Elder and Charlie Kirk and at 6:30pm with Candace Owens.
GOLD AND SILVER TICKETS: Includes reserved seating in the ballroom and all meals on Saturday — breakfast, lunch, and dinner.
ECONOMY TICKETS: Includes general admission seating in the ballroom. Does not include any meals. There are several restaurants at the resort that will be open during the event which are available for dining.
Freedom Summit 2020 attendees can book rooms at the Abbey at a special rate of $139 per night (plus taxes & fees, single or double occupancy) by calling 262-275-9000 ext. 4 and asking for the WIND 560 AM special event rate.
No one could ever have predicted the chaos and turmoil that we've seen in 2020. The COVID-19 pandemic completely upended our world. The robust economy has tanked. Unemployment has skyrocketed. American life is being lived against a background of constant uncertainty. At the same time, America's cities have been rocked by violence and racial unrest, as the Black Lives Matter movement has gained a new level of prominence. With all of these events unfolding, the November election approaches. Joe Biden and the Democrats continue their efforts to discredit and defeat President Trump while the president continues to work diligently to get America back on track.
Meanwhile, Illinois continues to suffer under the draconian restrictions imposed by Gov. Pritzker that have limited business activity and closed churches and schools. This new environment in Illinois has forced all of us to think and act differently, in order to survive. For that reason, AM 560 The Answer has made the unprecedented decision to move Freedom Summit 2020 to a more friendly environment. This year, Freedom Summit will originate just across the border in the Lake Geneva region of Wisconsin.
This year's event will once again focus on the issues that face our nation. Attendees will hear from keynote speakers Larry Elder, Charlie Kirk, and Candace Owens, as well as break-out panels on the economy, the COVID-19 pandemic, the racial unrest, and the potential outcomes of November's election.
This year, more than ever, freedom is under attack, and Freedom Summit will once again equip, encourage, and inspire attendees to defend and advance the cause of freedom.
FREEDOM SUMMIT 2020 SCHEDULE:
Friday, October 30, 2020
5-8pm VIP Reception and Live Broadcast with Larry Elder. (Platinum Ticket Holders Only)
Saturday, October 31, 2020
8am Event Check-In Begins
8:15am Breakfast Begins in the Ballroom
9am Breakfast Keynote Speaker: LARRY ELDER
10am Book Signing with Larry Elder
11am Break-Out Sesssion #1. Session topics to be announced.
11:30am VIP Meet and Greet with Larry Elder and Charlie Kirk. (Platinum Ticket Holders Only)
12pm Lunch Keynote Speaker: CHARLIE KIRK
2pm Media Rumble Roundtable. Participants to be announced.
3pm Book Signing with Charlie Kirk
4pm Break-Out Session #2. Session Topics to be announced.
5pm Book Signing with Candace Owens
5:30pm Cocktail Hour
6:30pm VIP Meet and Greet with Candace Owens. (Platinum Ticket Holders Only)
7pm Dinner Keynote Speaker: CANDACE OWENS