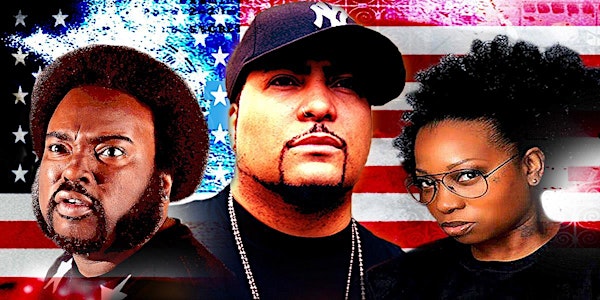 Freedom Justice Laughter: Red White And Blue Humor
When and where
Location
Freedom Theatre 1346 North Broad Street Philadelphia, PA 19121
Description
THE DEMOCRATIC NATIONAL CONVENTION JUST FUNNIER!!!
Philadelphia Comic/Producer KeithFromUpDaBlock has teamed up with comedian Shang Forbes & Hip Hop Legend Bahamadia for an EXPLOSIVE NIGHT of intelligent, humor & music inside of Philadelphia's oldest operating African American Theatre during the 2016 Democratic National Convention.
FREEDOM JUSTICE LAUGHTER: Red White & Blue Humor
Political / Socially Conscious Stand Up Comedy & Hip Hop Music
During The 2016 Democratic National Convention in Phila, PA

​

Special Music Guest: Bahamadia ( KOLLAGE, BB QUEEN, Dialed Up)
DATE: Wednesday July 27, 2016

Doors Open at 7pm. Show Starts at 8pm sharp
General Admission: $35.00
VIP : $50.00 (
Includes Champagne, Wine, Hors D'oeuvres, Premium Balcony Seating, Gourmet Samples from Ohh La La Salads
)
Must Be 18 & older with ID
10% Discount for Military, Educators & Medical Professionals.
for tickets & info visit the FREEDOM THEATRE BOX OFFICE
Racism, Sexism, Poverty, Politics, Police Brutality, Gay Marriage, Affirmative Action, Substance Abuse, Crime etc. NOTHING is off limits, no topic is too extreme or taboo.Freedom Justice Laughter was created as a place where comedians & performance artist can speak or vent about the state of the world and for audiences who want their humor served with a healthy portion of intelligence, relevance & maybe even somecontroversy.

From the heart of the city and the soul of a entertainer, exploding like a burst of fresh air on the stale hip-hop scene com
es Keith From Up Da Block.
Rapper. Singer. Comedian. Dancer. Host. Actor. Keith has the gift of many talents, but his supreme calling is now clear. Someone is urgently needed to make hip-hop fun again! And KeithFromUpDaBlock is ready for the challenge.

Raised in Philadelphia and schooled at the famed High School Of Creative and Performing Arts (
​home of Boyz II Men, Bilal & The Roots) ​
)Keith was a student of hip-hop from the very start. In 1996 Keith became Host and Creative Director of "Urban X-pressions"-- a music video program aired in Philly on TV
​48 ​WGTW
Keith calls it "B E T for brothers that don't have cable."

On "Urban X-pressions," Keith's talents as hilarious host and funnyman quickly caught on among the many 'hoods of Philly. Keith interviewed 50 Cent, Jay Z, Beyonce, Beanie Se​gel, Music Soulchild, The Roots, Isaac Hays, Violette Wallace, LL and many more. More often than not, he made these big stars crack up, and the laughter was infectious.

To keep his show going, Keith started producing television commercials, directed by and starring himself. The spots took on a life and humor of their own. TV ads for car dealers and nightclubs never had so much low-budget flair or street-wise humor. A comedic star was being born.

Then, a new ad campaign called for Keith to record a full music video, and his potential as an entertainer was realized. Keith recorded a parody of the Kelis hit "Milkshake" and called it "Cheesesteak" to promote Larry's Steaks on 54th and City Line in Philly. The video became one of the most-requested on "Urban X-pressions" and Keith saw a new direction for his talents. He has since produced several more "Cheesesteak" songs and videos.

Keith began writing and recording song parodies of popular hip-hop and R'n'B hits, releasing them on mix-CDs that he distributed himself throughout Philly. Drawing inspiration from the legendary Weird Al Yankovic, Keith injects a street edge that parody music has never seen. Keith not only writes hilarious lyrics, he sings and raps so well, the songs feel original and fresh.

The CDs were a street hit, and Keith began performing in comedy clubs and other venues around Philly. To keep his dance steps on point, the chubby sensation joined the Broad Street Beefcakes, a troupe of overweight dancers that entertain the crowd at 76ers games during half-time with their amazing moves.

Never one to shy away from the spotlight, Keith continues to perform frequently and develop his craft. At one of his shows in downtown Philly Keith met hip-hop entrepreneur Jonathan Shecter (aka Shecky Green) president of Game Recordings​,​an innovative hip-hop entertainment company. The two shared a common feeling for the music. Soon after, Keith was signed to Game and Shecky committed to making sure the world laughed along with Keith.
"I've been a hip-hop fan since 1980, and there's never been anyone like Keith," Shecky says. "His humor and his writing is so real, it's the breath of fresh air that hip-hop really needs. Yes, he's a clown, but he's also a real performer."

Says Keith. "Even though peeps will compare me to Weird Al, I wanna distinguish myself from him by offering more music and more ways to be entertained from the start. I can make music all the time. Of course I'm gonna do as much as I can creatively. I have never felt more prepared for anything in my life."
​KeithFromUpDaBlock has appeared on The Dr Phil Show, VH1's Undateable, MTV's Ridiculousness, On Court with The Philadelphia 76'ers Broad Street Beefcakes & has opened up for JAY Z, Kevin Hart & JB SMOOVE. His Youtube views have now reached 12.5 million & he can be seen in various promotions for Philadelphia's public transportation system SEPTA. He also produces movie trailers & policy videos for KING Theatres and can be seen before blockbuster movies start on screen at The Pearl Movie Theatre in Phila, PA. ​
Bahamadia rose to prominence on the hip-hop scene as the female protégée of Gang Starr's Guru, and lent her smooth-flowing raps to a variety of projects during the late '90s, including several electronica and acid jazz artists. Born Antonia Reed in Philadelphia, Bahamadia started out DJing at local house parties in the early to mid-'80s, and soon stepped out front to prove her skill on the mic as well. She remained a presence on the Philly hip-hop scene, but didn't make her first recordings until hooking up with producer/radio personality DJ Ran, who helmed her independent 1993 single "Funk Vibe." "Funk Vibe" caught the attention of Gang Starr MC Guru, who took an interest in Bahamadia's career and helped her get a record deal with Chrysalis. Her first singles, 1994's "Total Wreck" and 1995's "Uknowhowwedu," were well-received in the underground for their jazzy flavor and laid-back raps. She also appeared on the second volume of Guru's acclaimed Jazzmatazz project. The full-length LP Kollage followed in 1996, and featured production by both Guru and DJ Premier of Gang Starr, as well as fellow Philly natives the Roots.
Unfortunately, Chrysalis folded a year later, and Bahamadia chose to wait out her contract before resuming her solo career. In the meantime, she made a string of musically adventurous guest appearances that solidified her underground reputation: the Roots (Illadelph Halflife's "Push up Ya Lighter"), Sweetback (Sade's backing band), drum'n'bass auteur Roni Size (the title track of the landmark New Forms), Towa Tei, acid jazzers the Brand New Heavies, the Herbaliser, trip-hoppers Morcheeba ("Good Girl Down"), Rah Digga, Slum Village, and Talib Kweli's Reflection Eternal (their collaboration, "Chaos," appeared on the seminal Rawkus compilation Soundbombing, Vol. 2). She also hosted a hip-hop radio show in Philadelphia from 1997-1999. In 2000, she signed with the L.A.-based indie Goodvibe and released the chilled-out seven-track EP BB Queen (as in "beautiful black"), which received excellent reviews.
Shang has come a long way from the boroughs of New York. Originally from Brooklyn, this Carnegie Mellon University graduate and aspiring illustrator began his comedy career on a dare. A friend bet him $50 to take the stage during open-mike night at a local comedy club, Shang won the bet. He felt It was a way to get the things that he was passionate & angry about that he saw in the world.
So he caught the comedy bug & quickly became an underground favorite with his dark, edgy avant-garde, socio-political style. The charismatic comic has proven his premiere stand-up skills withAppearances nationwide and abroad With one of the most memorable performances of 1995 on HBO's "Def Comedy Jam" & won Two half-hour Comedy specials on BET's "Comic View Grand Stand.
Shang has cemented his position as one of the brightest funnymen in the business & his political and explosive humor has been showcased on HBO's Aspen Comedy Festival Special "Best of the Fest". Other appearances include "Politically Incorrect,"& the BBC's Funny Business,Mun2's Loco Comedy Jam, NBC'S Comedy Showcase, MTV's Choose or Lose, National Lampoon's New Faces, Comedy Central's Jamie Foxx-presents "Laffapalooza"& was a Co-Host on Russell Simmon's "One World Music Beat.
Shang also is a Co-producer & host of BET'S Access Granted & is a regular on Bet's Comic View, which airs weeknights at 10pm. (Incidentally, BET reaches 80 million cable households according to Nielsen Media Research). In addition, he has displayed impressive comedic acting & writing ability as a series regular on the late-night laugh-fest "The Newz" & a contributing writer for George Magazine.
Now Shang has been making headway into the acting field with recent guest starring roles on episodes of On CBS's "NCIS", ABC's "Zack & Cody", NBC's "Passions," WB's The Jamie Foxx Show & just finished shooting a pilot for FOX TV Called "FACELESS" written & directed by hot new director Joe Carmahan ("Narc" & Smoking Aces) & Produced by Tony Krantz ( "24" THe PJ's & Sports Night).
The debut of Shang's first major release CD entitled "SHANGRY!!", on Uproar Records is in stores now & has one of the most played Comedy Specials on XM Radio called "Live on Broadway" taped at the world famous Caroline's on Broadway In NY. In addition, he will be featured in several Upcoming international televised shows in Japan, Ireland, London and Amsterdam. Shang will continue to rise to the top of the comedy ranks with high-profile acting &televised stand up & personal appearances.
​FREEDOM THEATRE
​
http://www.FreadomTheatre.org
I​
f a theater survives long enough, it's likely to play a variety of roles. The Freedom Theatre is certainly no exception. What is exceptional are the roles this nineteenth-century Italianate structure has played through the years and its enduring contribution to the community.
So, let the curtain rise on 1968, the opening scene of its current incarnation. In a remarkable year of assassination, protest, and civil unrest, this imposing stone structure that began life in 1853 as the lavish home of Edwin Forrest, the nation's first great theatrical star, was reconceived in a way that paid homage to its past, seized the fire of its present, and took the first steps toward its future as a cornerstone of what's evolved into Philadelphia's lively and eclectic Avenue of the Arts.
That year, John Allen and Robert Leslie started a new African-American theater that soon became a gathering place for black theater and arts education, and a cultural centerpiece for the city's black community. And so it remained until the early 1990s, when Yale Drama School graduate Walter Dallas helped transformed the Freedom Theatre into the New Freedom Theatre and its widely acclaimed Freedom Rep, now one of the nation's most honored black professional theater companies. Under Dallas's leadership, the Rep mounted works by James Baldwin, Charles Fuller, Ntozake Shange, Leroi Jones, Ossie Davis,
August Wilson,

and other African-American playwrights. Its performing-arts training program blossomed to reach as many as 800 students annually; its graduates include Gary Dourdain of television's

CSI: Crime Scene Investigation

and Wanya Morris of the Grammy-winning, multi-platinum singing group Boyz II Men.

​