Description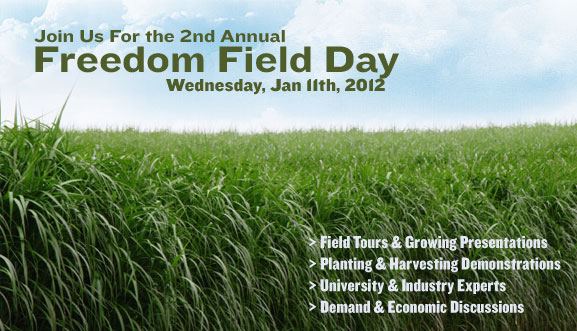 Who: Potential growers and landowners interested in learning about Freedom
What: Freedom Field Day, designed to educate on the planting, growing and harvesting of giant miscanthus
When: Wednesday, January 11th 2011
Where: REPREVE Renewables farms in Soperton, GA.
We are 2.5 hours south of Atlanta, 1.5 hours west of Savannah, and about an hour east of Macon.
For Detailed directions: Click here.
Local Hotel information: Click here.
The Freedom Field Day agenda holds a wide array of activities designed to promote education on the planting, growing and harvesting of Freedom giant miscanthus. The tentative itinerary includes the following:
Morning Session: Experts & End-Users
8:30am-1pm
Presentations by:
Michael McAdams, President of the Advanced Biofuels Association
Mississippi State University energy crop experts
Jill Stuckey, Director of Georgia Center for Energy Innovation
Pellet manufacturing representatives
Farm equipment representatives
Topics
Freedom Giant Miscanthus -- all about the crop
The demand for giant miscanthus in the US and internationally
Federal and state supported programs for growing giant miscanthus
Industry experts on end-uses for Freedom: pellets, plastics, fuels
Q&A session with REPREVE Renewables to address agronomic practices, economics of growing and planning for new crops
Lunch is included.
Afternoon Session: In The Field
1:00pm-4:30pm: In the Field
Field tours of several hundred acres of Freedom giant miscanthus, including research blocks
REPREVE Renewables methods for ensuring the most viable rhizome delivery
Equipment and process demonstrations