Freedom from Comedy - Improv workshop with Kevin Laibson

Ends Monday, October 17, 2011 at 10:30 PM (EDT)
Event Details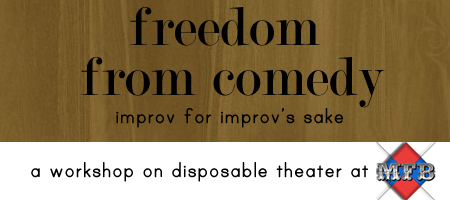 - an advanced improvisational theater workshop -
(theater for and from right now)
This six-week course, taught by Kevin Laibson, gives experienced improvisers a chance to exercise their skills in a format outside the structural confines of long-form or short-form comic improv.  Based in the work of Viola Spolin, Paul Sills, and Michael Gelman, this workshop is an exercise in improvisational theater for its own sake, offering tools for the improviser/actor to get on stage with a partner and allow themselves to get out of their own way as they create a short play up on their feet.  
The workshop runs once a week for 6 weeks, 4 hours per session and culminates in an intimate live performance, wherein the performers will improvise a series of complete short plays, never to be seen again.
about Kevin Laibson:
Kevin Laibson has taught workshops on improvisation, story theater, and Spolin technique all around the country for organizations such as the New York Film Academy, Second City, and the Boys and Girls Club of America. As artistic director of Full Circle Theatre Company, Kevin directed the twice-extended Off-Off-Broadway revival of Jeffrey, and the Off-Broadway debut of Marta Rainer's acclaimed Unaccustomed to my Name. He's the co-executive artistic director at Magic Futurebox, where he recently directed the New York premiere of Tommy Smith's Demon Dreams.  He also directs the award-winning sketch comedy group City Hall and the INNY-nominated improv duo, Rebecca AND Ron.  Regionally, he has directed and taught for the Village Productions, Exclamation Theater, and the Tri-Country Performing Arts Center in and around Philadelphia. In 2009, he directed Skyscraper National Park, an experimental improvisational theater troupe which performed on rooftops in Brooklyn. He is a graduate of the New Actors Workshop, where he studied acting and improvisation under Mike Nichols, Paul Sills, Rex Knowles, and Sherry Landrum, and studied at Second City under Michael Gelman, Mary Scruggs, Norm Holly, and Anne Libera. He currently teaches acting and improvisation privately and at the New York Film Academy and performs with the National Comedy Theatre's New York team.
When & Where
55 33rd St.
4th Floor
Brooklyn, 11232


Ends Monday, October 17, 2011 at 10:30 PM (EDT)
Add to my calendar
Organizer
Magic Futurebox
Magic Futurebox is a production team dedicated to making interesting things happen around lots of people. 
Our Goals: 
Start with the story, then add the tech.
To embrace and develop technological innovations that serve the art (not the other way around)
Participation isn't asking what you think, it's inviting you to play.
To provide multiple opportunities for different types of engagement so you decide how you participate in interactive and immersive art
What we make may not be for everyone, but it should be available to anyone.
To pursue methods of broadening access to art by integrating online media and live performance
Freedom from Comedy - Improv workshop with Kevin Laibson