Description
FREEDOM + FEMINISM PROJECT
FREEDOM + FEMINISM THE BOOK
KINDLE RELEASE EVENT
CHARITY GALA / ALL EVENT PROCEEDS TO CHARITY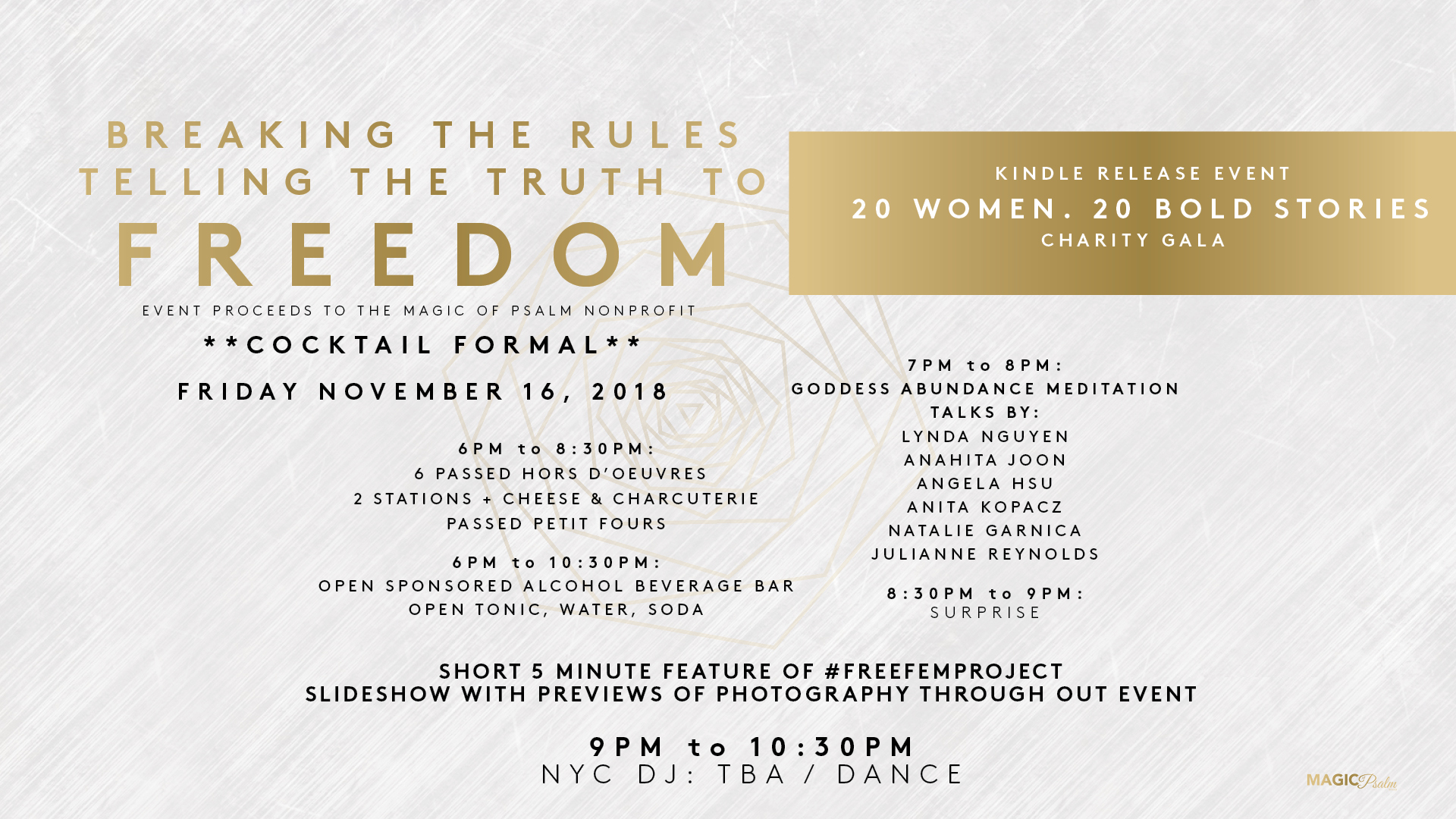 FRIDAY NOVEMBER 16, 2018
6PM TO 10:30PM
BREAKING THE RULES. TELLING THE TRUTH TO FREEDOM.


6 Passed Hors D'oeuvres + Sponsored Cocktails, 2 Cheese & Charcuterie Stations, Passed Petit Fours
(included with Admission)
Contact Lynda: lynda@lyndanguyen.com
Freedom and Feminism: https://www.facebook.com/freefemproject
(Website Launch Soon)
EXCLUSIVE VENUE + CATERING. RSVP REQUIRED
60 TICKETS MAX FOR PUBLIC -- GET YOURS SOON.
Because tickets are limited, if you want to "support" and not attend, use the DONATE option via eventbrite and leave the tickets (as we're head counting) for folks who plan to attend. Thank you for your support!!
MUSIC + MINGLE
LIMITED TICKETS AVAILABLE TO PUBLIC.
JOIN US NOW! LIMITED TICKETS STARTS @ $65.00
Attire: Cocktail Formal
"Freedom and Feminism: Breaking The Rules. Telling The Truth To Freedom": 20 Women. 20 Bold Stories. Gorgeous Evocative Photos.

A stunning book about our personal (and collective) journey towards FREEDOM as women. The only requirement: BE HONEST, TELL THE TRUTH (even telling on yourself)! You'll be moved by stories of trauma, grief, oppression, sexual empowerment, pleasure, Motherhood, friendship, true love and triumph. You'll be blown away by beautiful photos (celebrating EVERY WOMAN'S RIGHT TO EXPRESSION).

CELEBRATE with us on Friday 11/16/2018 in NYC!!!