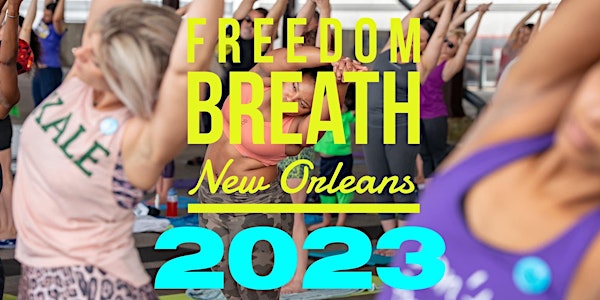 Freedom Breath 2023 - in honor of Juneteenth & International Yoga Day!
An opportunity to breathe more freedom into ourselves and into our city!
Date and time
Saturday, June 17 · 9am - 12pm CDT
Location
Dillard University 2601 Gentilly Boulevard New Orleans, LA 70122
About this event
International Yoga Day was recently introduced by the United Nations General Assembly, acknowledging the 2 billion people + around the world who practice some form of Yoga & meditation.
In 2021, Juneteenth became recognized as a federal holiday in the United States. It is a well-known time to celebrate liberation, culture and joy.!
In this spirit we gather celebrating our freedom & our breath with
"FREEDOM BREATH New Orleans "- an event in honor of Juneteenth & International Yoga Day at Dillard University.
Picture families gathered on the beautiful green grass, deep breathing & moving through basic Yoga poses surrounded by the protection of the trees and the legacy that is Dillard University.
Join us from Magnolia Yoga Studio on Saturday, June 17th 9am--12pm
as we host a city wide celebration with a FREE & family friendly Yoga class!
The class will be taught by a series of local New Orleans Yoga Studios so participants get the opportunity to experience a variety of New Orleans Yoga!
NO PRIOR EXPERIENCE NECESSARY
This class is ideal for participants of ALL AGES, ALL BACKGROUNDS, ALL LEVELS INCLUDING NEWBIES and those with an active Yoga practice.
We learn from each other!
Please bring an open mind --as well as a mat, water, towel, hat & sunscreen
*EXTRA Yoga Mats & Water will be available
Frequently asked questions
Do I need to know how to do Yoga?
Can Children and Elders join the class?
What else do we need to know?
Is this a good family event?
Why is Magnolia Yoga Studio organizing this event?