Session 3 of a 4-session series with Enneagram Coach Vanessa Sadler. Hosted by the Red Tent Collaborative and ABIDE Enneagram Coaching.
About this Event
"Greater awareness and acceptance of who I am allows me to live freely and fully into who I am becoming." -Vanessa Sadler 
Like so many, Vanessa often considered the twists and turns of her life as unwanted disruptions. Vanessa's experience with the Enneagram, Spiritual Direction and Story Engagement have been unexpected, life-giving invitations that have beckoned her deeper into her own story, her own heart and the very heart of God. Red Tent Collaborative is thrilled to partner with Vanessa's enneagram coaching business ABIDE in the first of this four-series course where Vanessa will train participants on living with greater freedom and mindfulness in the way of the Enneagram.
---
Content*
Session 1: Enneagram 101
Saturday, August 29, 2020
11AM-1PM CST
We'll start with a baseline understanding of the Enneagram, engaging content like:
An introduction
Grammar & terminology

Overview of each of the 9 types
Summary of healthy/unhealthy qualities
Q & A
Session 2: A Deeper Dive
Saturday, November 14, 2020
11AM-1PM CST
This in-depth examination of the Enneagram will orient you into the impact of the Enneagram on your story as a child and within your family of origin. Content will include the following:
Exploring the numbers by Triad (8, 9, 1) (2, 3, 4) (5, 6, 7) with discussion 

Core motivations and childhood message of each type
Defense mechanisms employed by each type
Parental orientation of each type
Q & A
Session 3: Spiritual Practices
Saturday, February 20, 2020
11AM-1PM CST
Each Enneagram type gravitates towards certain spiritual practices to find rest and rejuevenation. Learn more about the practices you can engage for both grounding and healing in your day-to-day life.
Review of triads

Prayer practices by triad

Stances and centers for each type
Integration exercises + practices for bringing up repressed centers

Q & A
Session 4: Subtypes & Tritypes
June 12, 2021
11AM-1PM CST
Every Enneagram type is shaped by the nuances of subtypes and tritypes, gain deeper understanding and self-awareness by exploring the Enneagram according to
Self-Preserving, Social, One-to-One
 subtypes
Focus and themes statements of your subtype
An overview of the tritypes

Q & A
*This is the third session in a series of 4 two-hour workshops. Participants will pay for each session seperately. Content will be delivered over zoom. Enrollment for each workshop is capped at 30 participants.
Instructor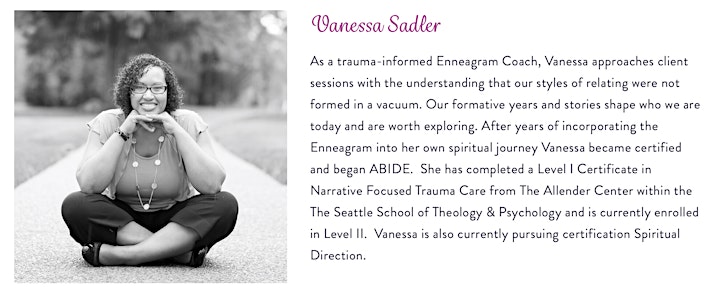 Date and Time
Location
Refund Policy