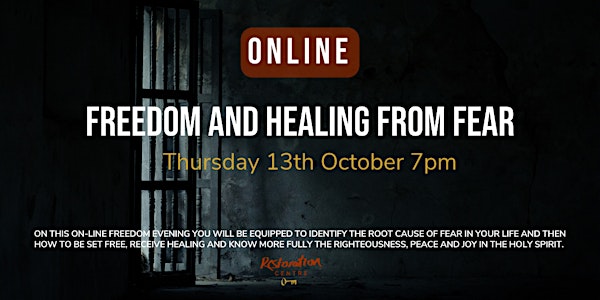 Freedom and Healing from Fear - Online Event
Equipping to know root cause of fear in your life, how to be free to receive fullness of righteousness, peace and joy in the Holy Spirit
Refund Policy
Contact the organiser to request a refund.
About this event
What would you do with your life if you were totally free from fear? 
The battle with fear is a common one, effecting many in society. Many believers, although they know the saving power of Jesus Christ and are spirit filled, still struggle with fear. Whether we call it worry and anxiety, phobia or terror, fear will paralyse you to some degree or another, robbing you of your God given freedom to thrive and enjoy life.
Do you have moments of total paralysis due to irrational or unexplained fear? Do you struggle with a persistent underlying, undefined feelings of anxiety?Do you worry about lack, Loss, Death, Accident?  Have you come to realise fear knocks on the door of your soul regularly?
The spirit of fear is one of the few spirits mentioned by name in the scriptures and is often the harbinger spirit to other demonic activity in people's lives. There are many causes of fear and therefore different ways the Lord heals and delivers us. It is our inheritance to live out our christian lives free from fear and instead with a spirit of Love, Power and a Sound Mind.
 "Fear Not" appears 103 times in the bible (KJV) and fear is mentioned over 500 time throughout scripture. If we are instructed not to fear, it must be possible to fear not!
On this on-line Freedom Evening you will be equipped to identify the root cause of fear in your life and then how to be set free, receive healing and know more fully the righteousness, peace and Joy in the Holy Spirit.
FAQ
Is there an in-person option?
This is an on-line webinar only. You will be sent a link the day before the event to use to join the webinar. Check out our other events for in-person opportunities.
Will there be times of ministry on-line?
We will have a time of prayer ministry despite this event being on-line. The Holy Spirit still meets us and heals us despite us not being in person.
Should my pastor be aware that I am attending this event?
It is always recommended that you are a regular church attender and that your pastors are notified of your intention to come to our Freedom Days. Ideally, you should seek their covering as there may be need for them to follow up any ministry that you receive. 
Is there an age limit to enter the event?
We recommend that delegates are 16 years and over.  Please don't bring children.