We'll be dancing, singing, laughing and enjoying the beautiful weather together! Come prepared to sweat and show off your great moves!
About this event
Tuesdays of May at 6:15 PM EST at Penrose Park!
I will be in the park around 6:05pm EST. You will have the opportunity to say hi and warm up.
Please bring water ,a towel, and clear enough room so you can dance your *peach emoji* off all night!
This class is open to EVERYONE.
It is beginner-friendly, and a safe inclusive space for ALL fitness levels and ALL body types.
Who is Colton?
Colton Gibbons is a dedicated community activist and Zumba instructor. He is a PhD Student studying Business Psychology and is a passionate precinct captain, and social equity advocate in Arlington, VA.
He has a Master's degree in Sports Management from Georgetown University and learned Hip Hop during his undergraduate degree at SUNY Purchase. In his free time he enjoys spending time with his dog and rabbit.
Core Values:
The Zumba With Colton outdoor classes focuses on donation-based dance classes to provide health, fitness and community access for all.
Commitment to Social Responsibility:
-10% or more of all class proceeds will go to a mutual aid or nonprofit EVERY month.
-100% of Proceeds of Special Events will go to multiple different organizations EVERY month.
*A minimum of 2 organizations will be selected to host separate events for at the beginning of the month
- FREE Donation-Based Classes will be apart of the usual schedule so equal access is guaranteed for all, no questions asked, no donation expectations ever.
Digital Donation Info:
Venmo: @Colton-Gibbons
Pay Pal: Colton.Gibbons
*Donations are never expected, feel free to attend. All I ask is to bring a friend or reshare the event on social media!
Helpful Links (All of these will open in the app):
Instagram : https://urlgeni.us/instagram/coltongibbons
Facebook: https://urlgeni.us/facebook/coltongibbons
Eventbrite: https://urlgeni.us/eventbrite/OPKf
Nextdoor Group: https://urlgeni.us/Nextdoor/aOvV
_____
Be mindful this class is a BIPOC LGBTQ+ Owned and Operated Business with a human rights first approach to bringing community together through dancing.
If you are interested in partnering or identifying a nonprofit or mutual aid fund for Colton to host an event with please reach out through @Colton.Gibbons on Instagram or Colton Gibbons on Facebook.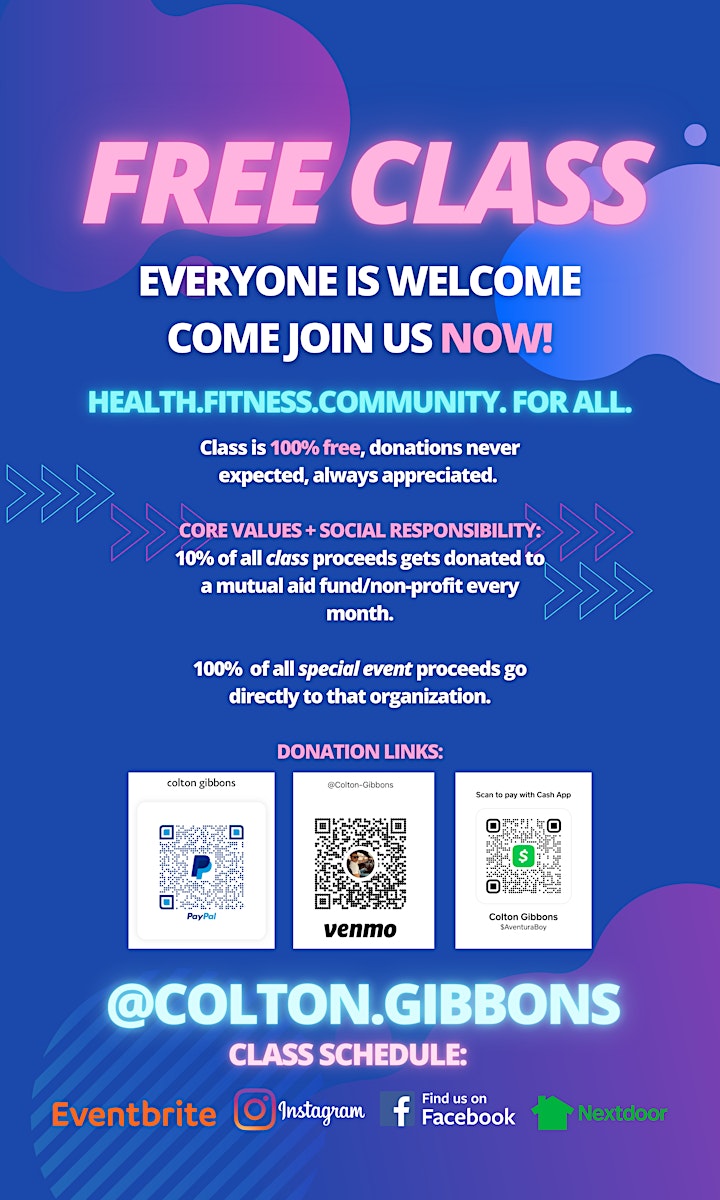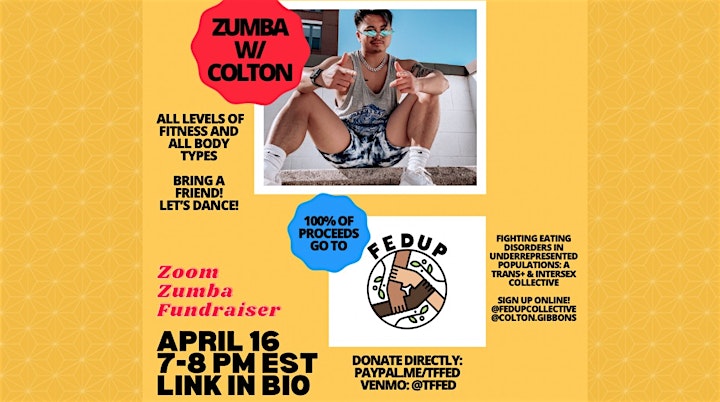 Organizer of Free Zumba in the Park W/ Colton - Penrose Park