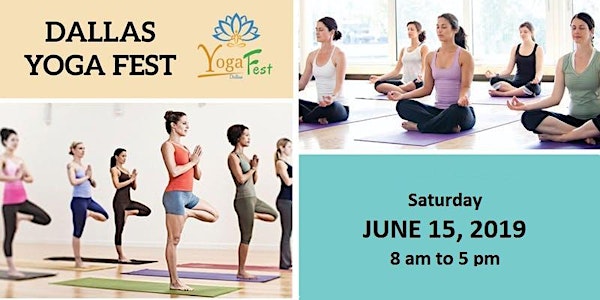 **** FREE YOGA EVENT **** Dallas Yoga Fest, June 15, Allen
FREE Yoga Event in Dallas Fort Worth ! Dallas Yoga Fest, Premier Regional Yoga Festival - Celebration of International Day of Yoga - June 15
When and where
Location
Ereckson Middle School 450 Tatum Drive Allen, TX 75013
About this event
*** FREE Yoga Event - June 15 - 8:00 am - 5:00 pm Allen ***
You are invited to the Fifth Annual Dallas Yoga Fest on June 15th! In commemoration of the International Day of Yoga. Presented by JKYog (Radha Krishna Temple in Allen) in partnership with Radio Caravan.
Dallas Yoga Fest is a premier regional yoga festival organized by the non-profit organization JKYog (Radha Krishna Temple) with support from several organizations, yoga studios, health experts, and volunteers with the goal of serving the community.
People of all ages (5+) and experience levels (beginner to master) gain a wealth of knowledge and know-how about Wellness!
FREE Admission! Free Parking!
Only a limited number of tickets available! Register and claims your FREE tickets NOW!
The event features:
All-day themed yoga classes
Meditation and pranayama classes
Fun-filled children programs
Holistic health seminars by authoritative health experts
Health fair - FREE medical screenings & services by TIPS
Special wellness program - The Spirit of Yoga Fest! Bollywood actress Sanya Malhotra (Movies Dangal & Badhai Ho Fame) in conversation with renowned yogi & philosopher Swami Mukundananda Ji
Marketplace with special collections of wellness products
Childcare for a nominal fee
Free Coding camp organized by WIZE Computing Academy
Healthy and Delicious Food
For further details and Program Schedule, please visit our website at https://DallasYogaFest.org
Watch a brief video about the event to learn more.